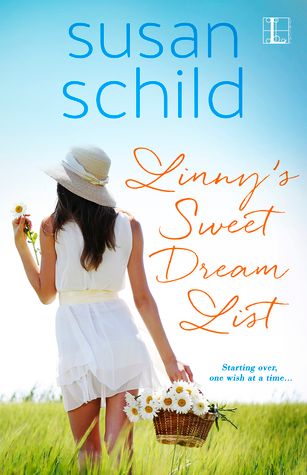 Linny's Sweet Dream List by Susan Schild
Series: The Willow Hill Series #1
Published by Lyrical Press/PenguinRandomHouse
Publish Date: January 5, 2016

Source: Author/Publisher
Find It: Goodreads / Amazon
Set in the off-beat Southern town of Willow Hill, North Carolina, Susan Schild's moving and witty novel tells of one woman who loses everything—and finds more than she ever expected.
At thirty-eight, Linny Taylor is suddenly living a life she thought only happened to other, more careless people. Widowed for the second time, and broke, thanks to her cheating late husband, Linny has no house, no job, and no options except to go back home. There, in a trailer as run down as her self-esteem, Linny makes a list of things that might bring happiness. A porch swing. A job that nourishes her heart as well as her bank balance. Maybe even a date or two.
At first, every goal seems beyond reach. But it's hard for Linny to stay in the doldrums when a stray puppy is coercing her out of her shell—right into the path of the town's kind, compassionate vet. The quirky town is filled with friends and family, including Linny's mother, Dottie, who knows more about heartache than her daughters ever guessed. And as Linny contemplates each item on her list, she begins to realize that the dreams most worth holding on to can only be measured in the sweetness of a life lived to the fullest…
(
Goodreads

)
Linny's Sweet Dream List by Susan Schild
My Thoughts:
Once I opened
Linny's Sweet Dream List
a couple of nights ago, I couldn't put it down. I read way into the night and finished early the next morning with my coffee. At the time, I was looking for a comfort read and this book was the absolute perfect choice.
Linny has had a tough time in her life with regard to love: not even forty years old yet and already married twice, Linny has watched both of her husbands die young. Adding to this tragedy, Linny lost her job soon after the death of her second husband
plus
she found out that he left her in a mountain of debt. Linny was forced to move out of her lovely luxury home, to sell her new Volvo and purchase an older model, and rent a mobile home near her mother's farm.
The mobile home was in poor condition; Linny began extensive renovation, which she enjoyed. She found and adopted a puppy. She made a "Sweet Dream List" of things that she wanted to do now that she had time and a chance for a new start. Slowly, slowly things begin to look up for Linny as she crossed items off of her list.
A few things that I love about this book
:
>the setting is probably about an hour from where I live, which made this book so much fun for me. I LOVE reading books that are local to me because I can easily visualize the places that are mentioned and it seems like I can create better pictures of the people in my head - the way they talk, the localized mannerisms, etc. I'm incredibly attracted to charming Southern settings and people in any story, any day. But THIS setting is perfectly written and just popped off of the pages.
>the characters are great - the secondary cast is vibrant and filled with interesting people. They are representative of what I know of small-town folks and they're representative of the best of the people in this part of North Carolina. Linny's family is loving and caring, and I was invested in their own little side stories.
>Linny is a great character study on what life sometimes looks like when it just...falls apart.
She gives one good example of the life-rebuilding process.
Linny actually fascinated me because she had such a broad range of emotions - I feel like this is so understandable for a woman in her shoes. At times she was very "I am woman, hear me roar" and at times she was disheartened at the things she was experiencing. At other times, she seemed like she could hardly believe that good things could possibly happy to her. She was a quiet person, and by this I mean that she simply lived her life without any drama and I love that. I felt a connection to her hesitancy to jump back into things after her entire changed, and I felt a connection to the quiet elation that she felt when she accomplished things that were hard for her. I also loved that she was so cautious with Jack, who ends up being her love interest. Their romance is a nice, slow-build.
I love Jack - respectful, friendly, good-mannered. A good father. A good worker. I like him in the community and also as a love interest for Linny, and I'm curious about
what things are ahead for these two
.
While I love reading the build-up of the romance, Linny's Sweet Dream List is focused more on Linny and how she rebuilds her life - surrounded by the people that love her - than on the romance. A romance is present once the story gets to a certain point, but I feel like it is a part of Linny reinventing herself. I think the central focus on happiness and wellness is really lovely.
Really, I loved being immersed in this story. I honestly can't wait to get my hands on
Sweet Carolina Morning
, which is the follow-up to this book (out August 2016) and looks like it will continue to follow Linny's story instead of being a companion novel.
I recommend
Linny's Sweet Dream List
for fans of great family relationships, great friendships, Southern settings, and comfort reads.
********************************************************************************
Linny's Sweet Dream List will appeal to fans of:


Contemporary with Romance
Romance: No triangles. Slow-build.
Setting: Central North Carolina
Strong Family Relationships & Friendships
Linny's Sweet Dream List by Susan Schild
is currently available for purchase.
********************************************************************************
The Willow Hill Series (so far):
I cant wait for the second book!