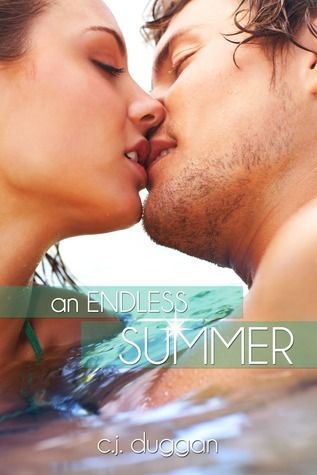 An Endless Summer by C.J. Duggan
Series: Summer #2
Publish Date: July 11, 2013
Source: Purchased
Find It: Goodreads / Amazon
Sean looked out over the lake, squinting against the sunlight. He turned to me, his expression sobering as his eyes flicked over my face in a silent study.
"Come on Amy, I saved you once, I'll save you again."
I met his stare unflinchingly. "I don't need saving."
A wicked grin formed slowly. "Don't you?"
After a rebellious summer night that almost claimed her life, Amy Henderson – the Onslow publican's only daughter – is sent away to suffer a fate far worse than any other punishment:
Boarding School.
Three years on, a now nineteen-year-old Amy returns to Onslow for the summer. What once was a cauldron of activity with live bands, hot meals and cold beers, the Onslow Hotel now lies dark, deserted and depressing. All fond childhood memories of loitering on the hotel stairs and eavesdropping on customers' colourful conversations are in the distant past.
How had her dad let it come to this?
With the new threat of putting the Onslow up for sale, Amy reluctantly turns to a local tradesman for help: Sean Murphy, the very same Onslow boy who saved her life all those years ago. With his help and that of some old friends, the task is clear: spend the summer building the hotel back up to its former glory or lose it for good.
In an endless summer, Amy soon realises that sometimes in order to save your future, you have to face your past, even if it's in the form of a smug, gorgeous Onslow boy.
(Goodreads)
An Endless Summer by C.J. Duggan
My Thoughts:
After loving
The Boys of Summer
, I was excited to dive back into CJ Duggan's world of great friends and summers by the lake.
An Endless Summer
did not disappoint and honestly, I couldn't put it down while I was reading. I really do love this series.
Once upon a time, Sean Murphy saved Amy Henderson from drowning. Then --
Amy Henderson has been away for about four years now, after her parents felt she needed to calm down a bit and sent her to the city for school. She's excited for summer - she's excited to return to the place she loves: her father's hotel, where she feels at home - to her friends, to those handsome Onslow boys...but when she arrives back, she finds that the hotel has fallen into serious disrepair. This bothers Amy because more than any other place, this place feels like home and she knows that the locals feel the same way. Since her father is spending time away in the city [rekindling his marriage] with her mother, Amy takes it upon herself to spruce up the hotel - like, completely re-haul it and get it in tip-top shape. This is far more than she bargained for this summer and it is a shame, really, because she knows her father has no clue how dire the situation has gotten - how far the hotel has fallen out of control. [She hasn't wanted to bother him because rekindling a marriage is serious business.] She is determined to fix things up, though, and she sets to work. To her surprise, the Onslow boys, headed by
none other than Sean Murphy
, help her out. Pretty soon, the hotel's renovation is a group effort, and Amy is not only having the summer of her life, but she is falling in love.
--
Okay, so here's the deal. When I read
the first book
, which featured Tess and Toby, I was ALL IN. I loved Tess and I loved Toby and
stick a fork in me, I'm done
. I loved the rest of the secondary characters, but I had no clue how they would ever live up to those two. Here, though, I've gotten to know Amy and Sean, which is wonderful. Both of these characters stood out less to me in the first book, but now, I LOVE THEM. Granted, 3-4 years have passed since the first book's events have happened, and there has been some maturation and character growth and change. Really, Amy and Sean are so much fun.
Amy is a
almost
a little much in the beginning of the story, maybe. But that doesn't last long at all. She's been away for a few years, in the city, and she
seems to be
the stereotypical wealthy girl, to me. When she comes back, no one is expecting this completely lovely, more mature young woman - all they can remember is young Amy. It takes everyone aback. Then she sets to work to restore her father's hotel, his life's work, and BOOM! everyone has this new respect for her - they just have to pitch in and help. Myself - I have to admit that I had a new respect for her too. She immediately pulled up her sleeves and got to work. Even though it felt pretty clear that her development as a character seemed a sure thing, what I loved was that it was steady throughout the story, even until the end. SO...even though I began to like her MORE early on, by the time I finished the book, I just wanted to hug her because I liked her so much. I also loved that she had weak spots and admitted them AND she had strengths and wasn't afraid to admit them as well.
Amy has this main goal the entire time: the hotel, the hotel, the hotel. This is because right now, for some reason, her family is such a priority to her. Amy is able to keep her eye on the finish line because she never looses sight of her main goal, but she is able to incorporate other important things and people into her life. This is HUGE, I think, because everyone reaches a certain point in their lives when they step over the line from child to adult - sometimes we straddle it for a while - but Amy really does a service to coming-of-age here by demonstrating her work ethic and the reasons behind her decisions and such. She shows that she is able to manage multiple tasks and things, and I loved this. (I'm not always great at this!) I also loved the way she allowed people to help her - I think this is a great thing we all have to learn, when to delegate and when not to, etc. Amy is
fine-tuning
her growing up here right before our eyes - it is not only the romance aspect of the story that demonstrates this.
Of course, the romance is very present in the story, and it is sweet and I loved it. The romance is called: Sean Murphy.
Sean has a little bit of a reputation throughout the community as a ladies man, and this is mostly due to his fame as a footballer and his good looks. The truth is that he has grown up a bit; he is actually a super-hard worker - he has a career outside of athletics, see - and this allows him to help Amy pretty easily...which allows him to nudge himself closer and closer to her, which is his end-goal anyway. HE LIKES HER. But the two of them are a little stubborn and it takes them a little while to admit these things to one another, when they are painfully obvious to us, the readers.
I think that this is mostly Amy's story, but it belongs to Sean too, only Sean is a little more mature than Amy.
Ultimately, I loved this story. I loved the slow romance between Amy and Sean, because if the truth is told, I think they both liked one another for a long time before this story began. I love the way Amy takes on hotel renovation and her friends + the community rallies behind her. I LOVE LOVE LOVE the way the cast from the first book shows up in a big way - I had grown to love them quite a bit during the first book. These are people that I could definitely see myself being friends with and wanting to hang around, so it stands to reason that I am happy that they are included in this book. I'm looking forward to continuing with this series - I have the third book and as well as some of the novellas on my Kindle - I'll be reading more about the Onslow boys soon. They're FANTASTIC summer reads.
I recommend
An Endless Summer
and the entire
Summer Series
by CJ Duggan to readers that enjoy new adult contemporary, summer romances, and fans of Australian authors.
********************************************************************************
An Endless Summer will appeal to fans of:
New Adult Contemporary
Romance: Slowly developing. No triangle.
Great friendships.
Australian author.
Australian setting.
Summer books.
An Endless Summer by C.J. Duggan
is currently available for purchase.
********************************************************************************