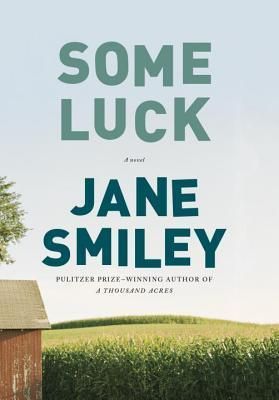 Some Luck by Jane Smiley
Series: Last Hundred Years #1
Published by Knopf
Publish Date: October 7, 2014

Source: Library
Find It: Goodreads / Amazon
On their farm in Denby, Iowa, Rosanna and Walter Langdon abide by time-honored values that they pass on to their five wildly different yet equally remarkable children: Frank, the brilliant, stubborn first-born; Joe, whose love of animals makes him the natural heir to his family's land; Lillian, an angelic child who enters a fairy-tale marriage with a man only she will fully know; Henry, the bookworm who's not afraid to be different; and Claire, who earns the highest place in her father's heart.
Moving from post-World War I America through the early 1950s, Some Luck gives us an intimate look at this family's triumphs and tragedies, zooming in on the realities of farm life, while casting-as the children grow up and scatter to New York, California, and everywhere in between-a panoramic eye on the monumental changes that marked the first half of the twentieth century. Rich with humor and wisdom, twists and surprises, Some Luck takes us through deeply emotional cycles of births and deaths, passions, and betrayals, displaying Smiley's dazzling virtuosity, compassion, and understanding of human nature and the nature of history, never discounting the role of fate and chance. This potent conjuring of many lives across generations is a stunning tour de force..
.
(
Goodreads)
My Thoughts
:
When I began this book, I was worried that its slower pace and the unique style of writing might be off-putting; I was wrong. These things were actually what made me fall in love with this story.
Some Luck
by Jane Smiley is the first installment in the
Last Hundred Years Series
, tackling one-third of the one hundred years covered in the completed series. Each chapter (1920-1953 in this installment) corresponds to one year and includes highlights from that year, as told from the perspective of varying members of the Langdon Family.
The book begins with Walter and Rosanna Langdon, young farmers from Iowa. As their family grows over the course of the story, so does technology, which changes the way that they farm. Also in a constant state of change is history itself, with the Depression and the world's political climate. Each chapter affords readers the chance to see this growing family respond to changes in farming (technological and from generation to generation) plus readers get to see how a typical American family handles different historical events from where they were in small-town Iowa.
Although there is no huge action in this book, there is no huge build-up or climax, I felt enamored with these people and how they did day-to-day life in this time that I can only experience through media like books etc. With each chapter, I grew more and more attached, particularly to certain family members.
The thing about a book being this long and detailed...is that it is long and detailed. What I mean is: with each chapter taking on one complete calendar-year, it is impossible to really know what is going on with the family in any detail.
We get a little bit about a lot of time.
I don't mind this at all. Selfishly, though, there are a few favorite characters that I wouldn't mind knowing more about. Because by the end of this installment, I feel like this is a family that I know in a strangely intimate way.
I read this book very slowly. I took my time here, which is not something I usually do with historical stories like this. I started out listening to the audiobook (which is a great audiobook) while I followed along with the print, but I felt like I was going too fast, so I abandoned listening. It was with print-only reading that I felt like I was able to understand the characters so much more-their motives, their reasons, their actions, etc.
I just loved this story so much. I would read it again in a heartbeat. I especially adored the parts that included the Depression-era farming, and the difficulties on the farm, and the difficulties with being a wife and mother of a farmer during the early 1900's. I could eat books like that for breakfast, and I can't imagine how I could love the next two books any more than this one, but if they are written in this way and if they continue with this family (which they are and they do), then I'm quite sure that I will.
This is my first Jane Smiley book; I will read more. I will continue with this series because I need to know more about this family and what they will do and how they will continue to react to history changing.
(I understand this book's length and structure being daunting to some but: I really could quit the series at the end of this book and be just fine.
I think Some Luck by Jane Smiley would work just fine as a standalone.
But I want to know more. )
**********************************************************
Some Luck will appeal to fans of:


Historical Fiction
Great Setting: Denby, Iowa
Great Family Relationships
Great Sibling Relationships
Family Saga
is currently available for purchase.
I didn't realize I would love this first installment so much!
Reading it slowly was a very good decision.

Aren't these covers SO GREAT together?