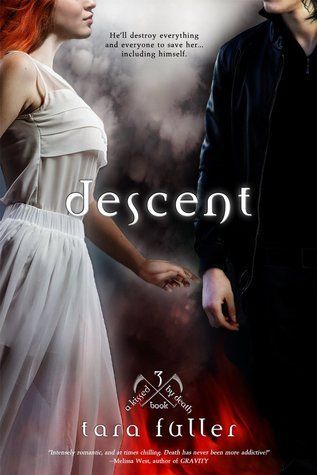 Descent by Tara Fuller
Series: Kissed by Death #3


Published by Entangled Teen
Publish Date: June 2, 2015
Source: Publisher
Find It: Goodreads / Amazon
Easton doesn't believe in love. He believes in Death. Darkness. Sin. As a reaper for Hell, it's all he's known for over four hundred years. When he gets slapped with the job of training the boss's daughter, an angel who knows nothing but joy, he knows he's in for a world of trouble.



Though he's made it clear he wants nothing to do with her outside of work, Gwen would do anything to get closer to the dark and wounded reaper—even taint her angelic image and join the ranks of her father's team of reapers. But in all her planning, she forgot to factor in one thing—how far the demons Easton doomed to hell would go to get revenge.
When the dangers of the Hell threaten Gwen, Easton will do whatever it takes to save her. But as the darkness closes in on them both, will he be able to save himself?
(Goodreads)
My Thoughts
: I feel like I've been waiting forever for this book! This series has been such fun for me.
Descent is the third installment in Tara Fuller's Kissed by Death series. It features Easton and Gwen - Easton is one of Hell's Reapers and Gwen is an Angel of Joy.
********************************************************************************
I remember Easton from earlier in the series - I remember hoping that he would get a chance to tell his own story. I've been neurotically watching the release date for Descent, seriously every single day for months and months and months, so reading this highly anticipated title has been some of the most fun I've had in a while.
Easton is a Hell's Reaper, which means that when someone dies and is not going to Heaven or the Inbetween, he is charged with escorting their soul to Hell. Unfortunately, he has been doing this same job for almost five hundred years, so he is known for having a little bit of a rough-around-the-edges attitude. I probably would too with that scenery every day, ya know? Easton also has a heavier-than-normal workload right now until more reapers are recruited, and he isn't thrilled about being so busy all of the time. Maybe most importantly, Easton carries around some guilt for things that happened to his family about five hundred years ago - he can't seem to let these feelings go. All of these things add up to make for a not-very-happy-go-lucky Easton, daily.
Gwen is basically the opposite of Easton - she IS filled with joy and happiness all of the time. She is charged with spreading joy to the people of earth and to see the goodness in people and...well, she's an angel, so she does angel-y things.
Their paths cross when they both happen to be at the scene of an accident in which several lives are lost, specifically one person that Gwen happens to be watching over at the moment of death. Easton trusts someone else to take this soul up to Heaven, but there is a misunderstanding and the soul gets taken elsewhere, which causes extreme distress for Gwen.
EXTREME DISTRESS.
Ya know, because she is an Angel and joy and happiness and Heaven and eternity and all of that. I would be in extreme distress too. Easton and Gwen soon team up to go down into Hell and retrieve this soul so it can be delivered to Heaven for the rest of eternity.
An Angel + a Reaper. An Angel + a Reaper!
This is basically an impossible task because 1) nobody ever really goes down into Hell and comes out the same and here Easton is taking an Angel and WHAT IS HE THINKING? 2) Gwen is super-beautiful and also the daughter of Easton's boss who is hella intimidating so DUDE DO NOT FALL IN LOVE, don't do it.
Do. Not.
Ohhh, but just like any great paranormal romance, that is exactly what happens and it's so much swoon. Because you see, Easton doesn't even think he can be loved and he doesn't think that he can love. THIS IS A RECIPE THAT I ENJOYED VERY MUCH. It is during this incredibly stressful time of working closely together that Gwen sees the good in Easton where no one else ever has, she helps him experience a few snippets of happiness where he hasn't in hundreds of years, and she shows him what love is where he had pretty much forgotten it. Gwen gives Easton glimpses of what life could be like if only there is someone in it to love, and suddenly Easton finds himself feeling things for the first time and wanting things for the first time. This same thing applies to Gwen too, see - as an angel, she isn't supposed to experience these things in life for herself! She was created only to give joy to other people. These two help one another and end up falling in love...
...but since a Hell's Reaper and an Angel of Joy can never be together, what will happen after they deliver the soul to his rightful place in Heaven? Is it possible for them to have a life together?
********************************************************************************
I mean, gosh. If there are ever FUN books out there, these are it for me. I remember reading Inbetween when I was in my car on a road trip a few years ago and thinking how much fun it was. And I remember being out-of-my-mind excited when I got my hands on the second book, Blurred. The same thing happened here. I love these reapers to pieces.
This third book is a little bit darker than the first two books, but I expected that given the setting and the characters featured (and even when I judged the covers of the series, see below, which are so great) The darker tone didn't bother me at all and I was still absolutely as stuck on this story as I was with the first two. Naturally since the setting contains a hell-ish backdrop for a portion of the book, there are going to be some darker scenes, with some of them being part of Easton's own backstory. There were even a few times when I shuddered a little but I'm thinking that this was great because going down
there
to retrieve the soul wasn't supposed to be all green grass and puppy dogs and fun and games. Great imagery, great worldbuilding. Characters that I love from previous books are present in a few scenes but this book belongs largely to Easton and Gwen and their own story.
I recommend Descent by Tara Fuller and the entire Kissed by Death Series to readers that enjoy paranormal romances and stories about reapers. They're just FUN - have I said that yet? I think they're great even for most younger-young adult readers, which is a solid plus at my house. This entire series is very high on my rereads shelf and considering that I didn't reread the first two books before I devoured (seriously, devoured) Descent, I hope I get the chance to reread the entire series soon.
********************************************************************************
Descent will appeal to fans of:
Young Adult Paranormal Romance
Reapers, Angels
Alternating POV's
Descent by Tara Fuller
is currently available for purchase.
********************************************************************************
Tara Fuller writes novels. Some about grim reapers. Some about witches. All of course are delightfully full of teen angst and kissing. Tara grew up in a one stop light town in Oklahoma where once upon a time she stayed up with a flash light reading RL Stine novels and only dreamed of becoming a writer. She has a slight obsession with music and a shameless addiction for zombie fiction, Mystery Science Theater, and black and white mochas. Tara no longer lives in a one stop light town. Now she lives with her family in a slightly larger town in North Carolina where they have at least three stoplights.
********************************************************************************
a Rafflecopter giveaway
Visit the rest of the
for more fun blog posts about this book
and maybe even more chances to win!
The Kissed by Death Series: