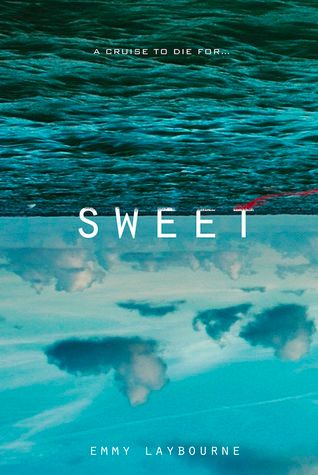 Sweet by Emmy Laybourne

Published by
Feiwel & Friends

Publish Date: June 2, 2015
Source: Publisher
Find it here: Goodreads / Amazon
The luxurious celebrity cruise launching the trendy new diet sweetener Solu should be the vacation of a lifetime. But Laurel is starting to regret accepting her friend Viv's invitation. She's already completely embarrassed herself in front of celebrity host Tom Forelli—the hottest guy ever!—and she's too sick to even try the sweetener. And that's before Viv and all the other passengers start acting really strange.
Tom knows that he should be grateful for this job and the chance to shed his former-child-star image. His publicists have even set up a 'romance' with a sexy reality star. But as things on the ship start to get wild, he finds himself drawn to a different girl. And when the hosting gig turns into an expose on the shocking side effects of Solu, it's Laurel that he's determined to save.
(Goodreads)
Sweet by Emmy Laybourne
My Thoughts: As Sweet by Emmy Laybourne begins, Laurel is boarding a cruise-til-you-lose ship to meet up with her BFF Viv. Viv is obsessed with the quick weight loss that is promised by the new diet supplement Solu, just like nearly everyone else on board the ship. Despite the fact that she does not feel the need to lose weight, Laurel has agreed to accompany Viv on this trip. Almost immediately after boarding, Laurel develops horrible nausea and becomes seasick. She is unable to hold any food or drink down, which means that she isn't taking in anything containing the Solu supplement. Viv is more than happy to eat her share plus Laurel's missed shares too - you know, so they won't go to waste. Not too long after beginning the supplement, Viv begins to act a little strange, and so do the rest of the people on board.
The common denominator among the people with the strange behavior is the diet supplement. Laurel becomes wary of it, which is no big deal to her because she never felt like she needed it anyway. She learns that there is another person on board that isn't taking the supplement: cruise host, Tom.
Tom is a former child-star. It is common knowledge that he was overweight when he was on television in his younger years. Since that time, though, he has had a great exercise routine that works along with a healthy diet and a personal trainer, and he looks and feels great. Like Laurel, Tom does not feel like he needs the assistance of Solu to keep his body weight in check. As the behavior of the other passengers becomes more and more strange (and dangerous) Tom and Laurel band together to support one another, then keep one another safe, then try to get help for themselves and others.
Things get really crazy.
********************************************************************************
Okay, so when I first started this book, I thought the pacing and the plot were interesting and I was invested. I liked the characters - the juxtaposition of Laurel and Viv, their friendship, their differences, all of that. They are opposites, which makes for interesting reading. I liked how Laurel handled herself even as she was a bit of a loner on board (aka comfortable with herself) compared to the rest of the passengers. I understood that she became seasick (plausible, right?) and I think that was a great reason to have her not partake of the Solu supplement. I liked that Viv was so eager to lose the extra weight that she took her own portions + Laurel's portions. These were things that I could easily visualize in my head as I read.
I also liked Tom and his story arc: the way his publicity team worked around him, the way he was told what to do vs. him making his own decisions. The one area he felt like he had some control was his exercise and diet regimen, and I love the way that Tom maintained these things in a healthy way. I loved seeing Tom deal with how the public treated him because he was a celebrity child-star vs. the other celebrities on board the ship.
As Tom and Laurel began to cross paths, more than once, and then their relationship progressed fairly quickly - I had a little bit of trouble buying into that. I am not opposed to insta-attraction/insta-love and I've read/seen stories (like this one) where love-under-stress works, but in this case it did not feel like something organic and seamless to me. I liked Laurel and I liked Tom, but I didn't really care for them together as a couple. If I could have changed one thing about the story, I would probably wish for these two to work together as two passengers working toward the same goal rather than as love interests.
There is a place in the book where you have to press your "suspension of belief" button in order to proceed because things get a little crazy in the end. There are some big twists and turns, for one. And what happens is a little far-fetched - it pulls this story out of the YA-contemporary category. If you can suspend your beliefs: go for it, enjoy the ride, because it is fun to read a story like this every now and then. I think there is an underlying message here that the author is trying to make with the unhealthy dieting and fads, and I get it. I get it. It isn't preachy, though, so no worries there.
Conversely, I can see where readers could potentially dismiss this story because of the way it trends toward the end - I get that too, because it is a little bit out there. I think writing something like this is risky, though, and I love seeing an author take a chance like this - particularly when there is a positive message in there (here, the message being hidden in Tom's ability to diet and exercise successfully without fad diets/supplements).
Ultimately, Sweet by Emmy Laybourne is a quick read, one that kept me turning pages, and one that kept me guessing until literally the very last page. I was surprised more than once, and then I was surprised again at the end. I recommend this book for fans of fast-paced young adult stories that are action-driven and suspenseful.
********************************************************************************
Sweet will appeal to fans of:
Young Adult with Suspense
Romance: Quick. No Triangle.
Issues: Self-esteem, weight loss.
Sweet by Emmy Laybourne
is currently available for purchase.
********************************************************************************