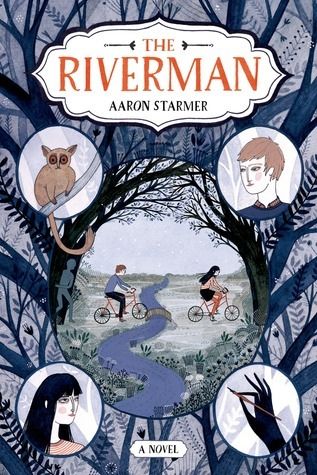 The Riverman by Aaron Starmer
Series: The Riverman Trilogy #1
Published by Farrar, Straus and Giroux BYR

Publish Date: March 18, 2014
Source: Library
Find it here: Goodreads / Amazon
"
To sell a book, you need a description on the back. So here's mine: My name is Fiona Loomis. I was born on August 11, 1977. I am recording this message on the morning of October 13, 1989. Today I am thirteen years old. Not a day older. Not a day younger
."
Fiona Loomis is Alice, back from Wonderland. She is Lucy, returned from Narnia. She is Coraline, home from the Other World. She is the girl we read about in storybooks, but here's the difference: She is real.
Twelve-year-old Alistair Cleary is her neighbor in a town where everyone knows each other. One afternoon, Fiona shows up at Alistair's doorstep with a strange proposition. She wants him to write her biography. What begins as an odd vanity project gradually turns into a frightening glimpse into a clearly troubled mind. For Fiona tells Alistair a secret. In her basement there's a gateway and it leads to the magical world of Aquavania, the place where stories are born. In Aquavania, there's a creature called the Riverman and he's stealing the souls of children. Fiona's soul could be next.
Alistair has a choice. He can believe her, or he can believe something else...something even more terrifying.
(Goodreads)
The Riverman by Aaron Starmer
My Thoughts:
I sat down with
The Riverman
by Aaron Starmer early in the morning a few days ago, thinking I would read a few pages and take my time with it - sometimes I like to read middle grade books slowly, you see. They feel so luxurious sometimes, the books written for the younger ages, being able to lose my mind in a story intended for a child. Anyway, this is not what happened to me. I was pulled into these pages immediately and I just could not let go - I read the entire story in one sitting.
The story centers around three children, twelve-ish in age:
Alistair, the narrator and best friend to Charlie, known widely as a boy who can keep secrets; asked by Fiona to pen her autobiography because she needs a "witness with an imagination"

Charlie, the less-than-cool gamer-boy that Alistair merely tolerates and maybe feels sorry for, just a little

Fiona, the maybe-quirky, maybe-aloof girl from down the way; the one that rides her bike by Alistair's house with heavy-metal music playing from her small radio; the one with the slightly messed-up nose; the one that isn't quite popular, but manages to be noticed; the one that Charlie used to play with when they were younger
Alistair is taken aback somewhat when Fiona makes her request and as she begins to tell her tale, his imagination begins to spin and take over. Not necessarily to quote Fiona, but:
There is a portal in Fiona's basement that allows her to travel to another land called Aquavania where anything she imagines comes to life. There are many different magical worlds within Aquavania with many different creatures, and Fiona has friends there that are real children from all over the real world. Lately, though, something had has been happening - rumor has it that The Riverman has been stealing the souls of children in Aquavania and when they go missing there, they also become missing in the Solid World.
As Fiona tells of friends going missing in both Aquavania and the Solid World (aka the real world), Alistair begins to wonder if maybe there is more to Fiona's story.
He listens and takes down the story as Fiona feverishly tries to figure out where her missing friends are and also to track down the shady character known as The Riverman. While Fiona is working things out and relaying her story so people will know her tale in case The Riverman comes for her next, Alistair begins playing detective too...except Alistair's imagination, which Fiona prized in the beginning, begins to grows and grow and it takes him to places other than where Fiona is looking.
This is kind of a big deal.
Fiona and Alistair are soon looking for the same things, the same people, wanting to save the same things -- but they're both looking in very different directions. One is looking in all of the right places and one is looking in all of the wrong places.
I could spend time talking about characterization here and how I wish I had done a better job of keeping up with the secondary characters, but the truth is that I read this book so quickly - I couldn't take the story in fast enough - it's no wonder that I had a little bit of trouble with some of the minor cast. No big deal. I'll pay more attention on future rereads, I PROMISE. I did
really love
one secondary cast member quite a bit, Kyle, brother to Charlie. A misfit with a bad reputation in the community, Kyle had a good heart, I think, but had a difficult time breaking out of a mold that people had placed on him for certain reasons, and he was the "bad boy" character of the book. I do think that Kyle wins as my favorite character in this book. My least favorite? Charlie. I never really liked that kid, from the beginning, up until the end. There was something about him that just rubbed me wrong - lazy, opportunistic, that sort of thing. I found myself wishing him away at certain parts of the story, but by the time I got to the end, I found myself curious about how his role in the trio of friends and in the story arc would play out in future installments in this trilogy.
I will say that after I finished reading
The Riverman
, more than anything, I felt a mixture of WHAT ON EARTH DID I JUST READ?, THIS IS ABSOLUTELY AMAZING, MORE MORE MORE! and WHO CAN I PUSH THIS BOOK ON SO I CAN DISCUSS IT,
WHO?
part of my reaction probably comes from the fact that I kept forgetting that this is a middle grade book - certainly the characters are young, act young, and have a young feel to them, but there are some non-middle grade things that happen in the book, I think, and I'm not sure that my youngest middle-grader would be ready for those themes just yet even though he falls into the recommended age. Another part of my wide-eyed and excited reaction comes from the layering of this story, how very discussable it is, and the blend of world-building and fantasy that is present here. Also, the big reveal near the end - I didn't see it coming, I didn't even have a clue. Gosh, I love it. I sat in my reading chair and took a few deep breaths because WHAT, WHAT. This is middle grade that made me feel this way, and I'm a big kid. It's fantastic.
I don't really know that I've done justice to this story, because there is too much to give away and still so much more for me to find out. I will be rereading this one, certainly. Ultimately, this book felt
to me
like both a tribute to imagination and also a warning about it, as well as an ode to being on that precious line between still-a-kid and not-a-kid-anymore. Aging and maturity level, the way we think as we begin to mature, these things are silently in this story. There is so much in here, actually, that I saw as an adult and I'm curious about what a middle grader would actually pull from this story. Would it be as layered? Would it mean so much and represent the same things? I do not know, but DANG IT this is some good stuff right here.
High fives to you, Mr. Starmer. I am quite charmed by this one.
********************************************************************************
The Riverman will appeal to fans of:
Middle Grade Fantasy
Romance: There is a thread of romance that begins, no triangle.
Great Setting: The Solid World, Aquavania - in 1989
Coming-of-Age
The Riverman by Aaron Starmer
is currently available for purchase.
********************************************************************************