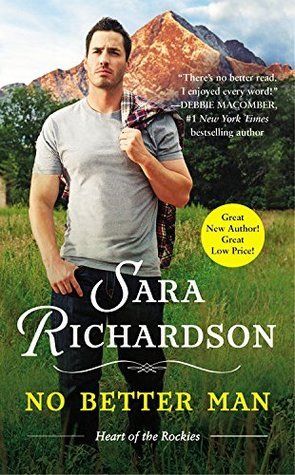 No Better Man by Sara Richardson
Series: Heart of the Rockies #1
Published by
Forever

Publish Date: May 26, 2015
Source: Publisher
Find it here: Goodreads / Amazon
When it comes to business, Avery King always comes out on top. So after a very public breakup, work is the perfect excuse to flee the Windy City for the gentle breezes of Aspen, Colorado. Her mission: acquire the land of a rundown mountain ranch. Avery expects an easy win . . . until she meets the rugged and irresistible rancher who won't give up his property without a fight.
Bryce Walker is stunned by the stubborn beauty determined to get what she wants. But what she wants is his last connection to the life he used to have. Bryce has plans to return the ranch to its former glory and no way will he sell his family home. Yet the more time he spends with Avery, the more her sweet touch makes him forget his painful memories. Now Bryce must decide whether living in the past is worth losing his future . . .
(Goodreads)
No Better Man by Sara Richardson
My Thoughts
:
With a great setting and an enjoyable cast, the
Heart of the Rockies Series
seems to be off to a great start. I loved
No Better Man
, featuring Bryce Walker and Avery King.
Bryce is about to lose the family land. The ranch is in debt and has fallen into disrepair after he was away for a few years following an accident for which he carries tremendous guilt and shame. Bryce has trouble seeing the bright side of things in the recent past and works nonstop to earn back what was lost while he was away. He doesn't want to lose the land, which is his family's legacy, but the bank and potential investors are watching as the date nears for him to turn over tons of money that he doesn't have.
Avery has just been humiliated publicly by her ex-boyfriend after she refused his proposal. She has been sent to the ranch to assess the land and make an offer, and she believes that she can make the deal. However, when she arrives, she is surprised to see that Bryce is not entertaining offers. She is also surprised by his temperament, which is gruff and unreasonably grumpy. Determined to figure out the connection to the land, to change his mind (and complete the task her father has assigned her), and to see what is going on with Bryce, Avery begins investigating. The more she finds out, the more she likes both the ranch and Bryce.
The longer she stays, the less she wants to leave. The longer she is around Bryce, the more she likes him. The more Bryce is around Avery, the more he feels again for the first time in years.
Bryce and Avery have an instant attraction, which I can get behind. I love good chemistry and these two have it. I love the connection that Bryce has with his ranch, with his community and his friends there, and with his mother. Bryce is sexy because he likes to work with his hands, he has the support of people that have loved him through his tougher times, and he loves his mother without being too attached. When the story begins, he has already made some progress in working through his issues, but he still has some work to do. I'm glad when he allows himself the room to do this and I enjoyed reading how he fell for Avery through this process. It was not easy for him to open himself up to her, so I was happy for him when he finally found happiness.
Avery has always been successful, I think in part because she wants to make her father proud. After her mother died, this became more difficult because her father retreated into himself a bit. Avery her never fully spread her wings and she has always sort of catered to her father, but I'm not sure that it ever occurred to her that she was not completely happy until she made it out to the ranch. I loved seeing her in this environment, in a slower-paced life. She embraced the community and Bryce's friends, partly because she loved it out there and partly because they're such great people that they befriended her right away. I loved the way she was able to look beyond her career objective to see the heart of the ranch, and the heart of Bryce and his mother - why the land was important to them - and she used this information to help her determine how she wanted to move forward with her own life. Watching other people with a sense of community and love made her want to have the same. It took guts and determination for Avery to step out and make some big life changes, but she did, and good for her.
In the process of all of these changes - Avery changing her life goals and the path she was taking and Bryce opening his heart to love again - these two quickly fell in love. While their falling seemed fast, it took a little while for the two to get it together and come up with a workable relationship.
I love the setting and I enjoyed the secondary cast as much as I love this romance. I'm looking forward to continuing with the series to read about Bryce's friends (and Avery's too, hopefully).
Bryce is a quiet hero and I like that. His strength is not diminished and he is not weak. I love his development over the story, and I love that it was tough for him. Avery is not quiet at all, but I love that she learned to live a quieter life. Her development is enjoyable as well. I recommend No Better Man by Sara Richardson for readers that enjoy romance stories with happy endings, small town romances, and books with great friendships.
********************************************************************************
No Better Man will appeal to fans of:
Adult Contemporary Romance
Great setting: Aspen, Colorado
No Better Man by Sara Richardson
is currently available for purchase.
********************************************************************************