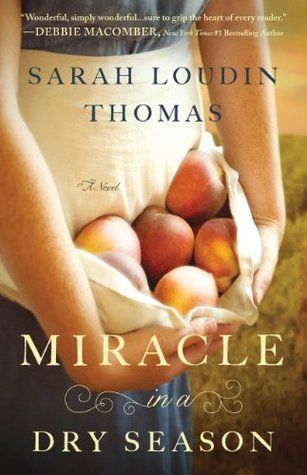 Miracle in a Dry Season by Sarah Loudin Thomas
Series: Appalachian Blessings #1
Published by Bethany House Publishers

Publish Date: June 29, 2014
Source: Bought
Find it here: Goodreads / Amazon
In a Drought, It's the Darkest Cloud That Brings Hope
It's 1954 and Perla Long's arrival in the sleepy town of Wise, West Virginia, was supposed to go unnoticed. She just wants a quiet, safe place for her and her daughter, Sadie, where the mistakes of her past can stay hidden. But then drought comes to Wise, and Perla is pulled into the turmoil of a town desperately in need of a miracle.
Casewell Phillips has resigned himself to life as a bachelor...until he meets Perla. She's everything he's sought in a woman, but he can't get past the sense that she's hiding something. As the drought worsens, Perla's unique gift divides the town in two, bringing both gratitude and condemnation, and placing the pair in the middle of a storm of anger and forgiveness, fear and faith.
(Goodreads)
Miracle in a Dry Season by Sarah Loudin Thomas
My Thoughts:
When you look at the cover of
Miracle in a Dry Season
, it screams
comfort read
. That's exactly what it is and that's what attracted me to this series to begin with. I read the
Appalachian Serenade
novella recently and was hooked on the setting right away, both the time and the place. I just had to continue with the series. The novella featured Delilah Morrissey and Robert Thornton, their coming-together as a couple, and it also gives us the backdrop featured heavily in this first full-length novel: the town's general store.
Miracle in a Dry Season
features Perla Long and Casewell Phillips. The year is 1954, almost ten years after the novella ended, almost ten years after Perla moved away from Wise, West Virginia with her parents.
Perla has recently come back to town to stay with her Aunt Delilah, and she is not alone. She brought her daughter Sadie with her. Having Sadie is quite the scandal because Perla has not mentioned a husband or father for Sadie. The truth is that she came back to Wise for a break from all of the talking of her scandalous life, to get away from the whispers and the stares, in hopes of escaping judgment.
People and their talking, it can be so painful
.
Perla knew she would endure that kind of scrutiny when she decided not to discuss Sadie's father. She could handle it all if it were only that. But this
blessing
curse with the food? That makes everything just TOO MUCH. She hasn't been able to explain the way that food just seems to multiply every time she cooks it, that food never runs out, even when she knows there isn't enough to feed everyone at the table, the way her meals seem to satisfy people in a way other food does not. Perla has prayed that God would take away this curse, that he would allow her to be a normal cook, but alas He has not and her food continues to satisfy and grow in amount every time she prepares it.
She is not embarrassed by her child because that is how she learned to love. But this thing with the food? A little humiliating.
Casewell Phillips notices Perla right away - how can he not? She's so lovely. Yes, she has a child, so he needs to be careful in the case of a husband, but she has not mentioned one. He shouldn't even consider a possibility with this lovely woman, but could it be possible that her husband has passed on? Is that why she is in town alone?
Casewell loves Perla's cooking and he is smitten with her child. He just needs to investigate this husband-thing.
What is Perla's story?
While these two are slowly feeling out a romantic relationship, the town is heading fast into a terrible drought. Water is hard to come by and so is food. Animals are dying, wells are drying up. When the town realizes that even their shared resources are dwindling, Perla offers to cook meals and serve the community - who better than the person that can
miraculously
make meals grow? For a town that means to be so faithful, some of them are so unkind and unappreciative. The town splits between those that feel she is a blessing to the area and those that feel she is a curse. It becomes ugly and even though Casewell never believes harmful things about Perla, he does find himself examining his truest, deepest thoughts and beliefs.
Miracle in a Dry Season
is the story of judging and being judged, of examining yourself and your beliefs, of healing, of grace, of redemption. Of forgiveness. Of love. It is SO, SO GOOD.
********************************************************************************
I love Casewell. LOVE him. Here is a young man that works with his hands, a furniture builder. He is a quiet man, but an old soul. He loves his parents, but even as an adult he longs for their approval in a way that he can actually feel it. Casewell is a faithful man, and he loves his church and the town. He is kind and caring, often stopping his work or rest to help people when they need it. What I love most about Casewell in this story, though, is that he comes to realize that he is not perfect, he has some serious flaws to work on, and he thinks long and hard about the way he has been living his life. He finds the places in his life that need work, and he sets out to mend them. He admits his errors and apologizes. I think I learned about myself from Casewell because as he examined himself, I was able to do the same (I love when books help me do this).
I love Perla too. She is exactly the person you would imagine her to be: independent and able to handle things because she has been handling life for so long.
Roll up your sleeves, dig in, let's get the job done
. Perla believes in honesty, so she is truthful with people, even when it is painful to her and may cost her. I love this about her and I want to be better at this myself. Perla shows up when it is uncomfortable and sets out to help a town in need, the same town that has been not-so-accepting of her, and when they are still not kind to her, she handles it well.
I love this about her. She is a great mother and a good example for Casewell, who is watching her and working hard on himself throughout this entire story.
This book is so warm and so comforting from the first word until the last word. The scenes are all rich and thick with purpose. I felt so wrapped up and present in Wise, West Virginia during this time, where everyone was hungry and thirsty, where everyone was unsure of how they felt about Perla and Sadie, where everyone was looking to one another for this answer instead of looking to their own heart and to Scripture for the right answers. It felt
so good
to read this.
I can't speak enough about the people of this town, the secondary cast, and how much I love them: the town "drunk" that was judged harshly until Perla was kind to him, the spinster sisters that lived down the way, Casewell's parents, and sweet little Sadie. Each of these characters had something so wonderful to add to the story, each has their own little story to tell, each helped move the story along. I was so
into
them all.
I have the next book on my Kindle and I'm so eager to go ahead and get started on it, like right now. I miss these people and this town and I think about them and wonder what they're up to. I love this part of reading, being connected to a place and group of people, and also being able to close the pages having taken something
really good
from the story.
I recommend
Miracle in a Dry Season
by Sarah Loudin Thomas for readers that love historical fiction, readers that enjoy Appalachian settings, and readers that love clean romance. This book is reread status for me, the kind of book that I hug when I'm finished.
********************************************************************************
Miracle in a Dry Season will appeal to fans of:
Historical Fiction, Inspirational
Romance: No Triangle
Great Setting: Appalachia, West Virginia
Miracle in a Dry Season by Sarah Loudin Thomas
is currently available for purchase.
********************************************************************************
The Appalachian Blessing Series is:
Do you like historical fiction?
Aren't these covers BEAUTIFUL?
I actually first noticed this series because of the covers -
it turns out that Appalachian Serenade is a free download
on both Amazon and Barnes and Noble!
Excited to continue the series.