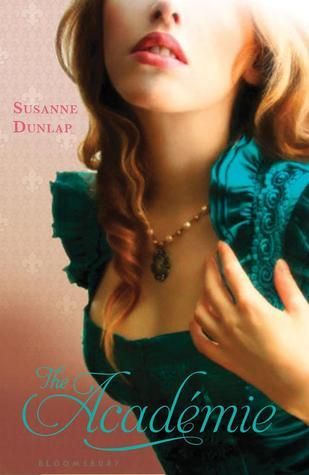 The Academie by Susanne Dunlap
Published by Bloomsbury USA Childrens

Publish Date: February 28, 2012
Source: Publisher
Find it here: Goodreads / Amazon
When Eliza Monroe - daughter of the future president of the United States - discovers that her mother is sending her to boarding school outside of Paris, she is devestated. But Eliza is quickly reconciled to the idea when she discovers who her fellow pupils will be: Hortense de Beauharnais, daughter of Josephine Bonaparte; and Caroline Bonaparte, youngest sister of the famous French general. It doesn't take long for Eliza to figure out that the two French girls are mortal enemies - and that she's about to get caught in the middle of their schemes.
Loosely based on fact (the three girls really did attend finishing school at the same time), Eliza's coming of age provides a fascinating glimpse into the lives and histories, loves and hopes of three young women against the backdrop of one of the most volatile and exciting periods in French history.
(Goodreads)
The Academie by Susanne Dunlap
My Thoughts:
In
The Academie
, Susanne Dunlap has taken real people (and a few imagined characters) and married real events and imagined events - this story is loosely based on actual history. What we have is an American girl that arrives at a French boarding school to find that two of her fellow students are closely connected to Napoleon Bonaparte - one is his sister, one is his stepdaughter - during a time of big political tension in France. As the girls become friends and as the American girl learns the refined ways of French society, there are shenanigans, there are some major politics, there is some romance, and there is plenty of drama.
The main players are:
-Eliza - daughter of future US President James Monroe
-Hortense - stepdaughter of Napoleon
-Caroline - sister of Napoleon
-Madeline - mixed-race actress at a local theater, not a student at the school
There are three alternating points-of-view telling the narrative - Eliza, Hortense, and Madeline. Caroline is the only one not telling the story, but she is a key player in it
.
********************************************************************************
Okay, so here's the deal: overall I liked the story, but there are things that I liked and things that were merely okay.
Setting
. I liked the boarding school feel in the beginning of the book, and I wish it would have carried more seamlessly throughout the entire novel. Because the second part of the book feels so differently than the first part and because there plenty of long scenes that took part elsewhere, I feel a little hesitant to call this a "boarding-school book" although I'm sure others would still categorize it this way.
Characterization
. I like all of the characters, I
genuinely
like them - even the ones that are supposed to be less likable were enjoyable to me. However, there are so many of them that it was tough for me to get to know them as well as I like to. Also, there were instances where the author would call some of the characters by first name, and then sometimes use the last name for the same character - this was confusing to me and it took quite a bit of flipping back and forth (which sadly was not the most fun on an ereader).
Romance
. I get that the young girls during this time were already thinking ahead to marriage, I do. And I get that they often had to consider marrying according to what was best for their family, I do. But there were so many romances in this story because there were so many girls! There was some effort in keeping up with who loved who - and there was also some
I guess I like him more than I thought
and
I misread his intentions, doggone it
. I kept having to remind myself that the romance portion of the story was likely in keeping with the maturity level of the girls and with the time period in history. Honestly, though, with this particular set of flat-ish characters, the romances felt a little flat too.
History
. I love historical fiction and I absolutely LOVE history. Even so, I was not up-to-speed
enough
on the history of this time and place with regard to everything mentioned in this story. I stopped to research some of the phrases used and a couple of the people mentioned in the book, and the reading was a little easier after that. A brief explanation of these phrases (or use of context?) or indication of who these people were would have been so helpful! But the biggest thing that would have helped me regarding the historical part of this book would have been if the Author's Note had been included BEFORE the book rather than at the end. That way, I would have learned which parts were real and not real, etc. and this would have honestly made the book a little more enjoyable for me.
The Academie
by Susanne Dunlap, I think, fits best with a younger-young adult reading crowd. I say this because I think that my young girls would love this one because they would buy into all of it without question, where I was questioning things [and having to suspend my belief that 14-year-old girls would do some of the political things that these girls did]. At any rate, this was a fun read, but honestly not my very favorite YA historical fiction. I would recommend The Academie by Susanne Dunlap to a younger-YA reading crowd, to readers that enjoy French Revolutionary historical fiction, and to readers that enjoy a boarding school setting.
********************************************************************************
The Academie will appeal to fans of:
Young Adult Historical Fiction
Romance: Several romances!
Great Setting: Boarding School in France, 1799
Alternating POV's
The Academie by Susanne Dunlap
is currently available for purchase.
********************************************************************************
Isn't this cover SO PRETTY?
Do you love YA historical fiction?
Do you have a favorite?
I seem to have better luck with adult historical fiction.