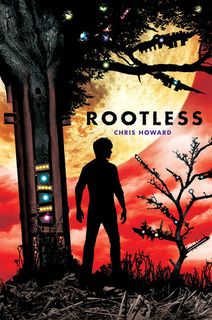 Rootless by Chris Howard
Series: Rootless #1
Published by Scholastic
Publish Date: November 1, 2012
336 Pages
Source: Audiobook - Library
Find it on: Goodreads / Amazon / B&N
17-year-old Banyan is a tree builder. Using scrap metal and salvaged junk, he creates forests for rich patrons who seek a reprieve from the desolate landscape. Although Banyan's never seen a real tree—they were destroyed more than a century ago—his father used to tell him stories about the Old World. But that was before his father was taken . . .
Everything changes when Banyan meets a woman with a strange tattoo—a clue to the whereabouts of the last living trees on earth, and he sets off across a wasteland from which few return. Those who make it past the pirates and poachers can't escape the locusts—the locusts that now feed on human flesh.
But Banyan isn't the only one looking for the trees, and he's running out of time. Unsure of whom to trust, he's forced to make an uneasy alliance with Alpha, an alluring, dangerous pirate with an agenda of her own. As they race towards a promised land that might only be a myth, Banyan makes shocking discoveries about his family, his past, and how far people will go to bring back the trees.
In this dazzling debut, Howard presents a disturbing world with uncanny similarities to our own. Like the forests Banyan seeks to rebuild, this visionary novel is both beautiful and haunting—full of images that will take permanent root in your mind . . . and forever change the way you think about nature.
(from Goodreads)
Rootless by Chris Howard
WHY I Wanted to Re-Read: When I first found out about this ReRead Challenge, it was a no-brainer for me to throw Rootless into the reread pile. This is one of my absolute favorite books to read; I've read it something like five or six times from start-to-finish. My goodreads is nowhere near accurate for total reads of this book, partly because I tend to pick it up and open to random pages and begin there.
One thing that was so much fun about rereading this time is that it was my FIRST reread of 2015 because it's my favorite travel audiobook! Doggone it, I love this story. But listening to it when I'm driving long distances is just as fun as listening to some of my favorite driving music. My family took a vacation that overlapped the New Year's holiday; I began listening while on vacay, but finished on the drive home -- so much fun to drive while listening, mostly because HELLO, ACTION in the middle and end of the book.
***********************************************************************
WHEN I First Read It: I first read Rootless in October 2012, just before the book was released. I remember sitting down and barely moving while I read the entire book. I couldn't sit still, I couldn't recline. I held my breath in certain parts, I clutched my poor Kindle until I probably almost broke it in certain parts, and then I finally exhaled at the end of the book, exhausted. THOSE ARE THE BEST BOOKS, THE VERY BEST.
My initial review of Rootless has been one of my favorite to write to date.
I've listed lots of the cool things about Rootless in this review.
***********************************************************************
WHAT I Remember: I remember being swept up in adventure, in main character Banyan's world. There is a quest, which I always love. There are colorful characters that are oh-my-gosh so entertaining. I remember that I loved the hell out of this book, and I remember that it made me love trees even more than I already did.
As soon as was possible, I bought the audiobook and listened to it - I had been highly anticipating it because I loved the sample that I'd heard and the narrator Nick Podehl is one of the best. Since my first read and since acquiring the audiobook, this has been one of my most-visited stories.
My entire family loves it. Husband, kids. LOVES IT. It's one of only two YA audiobooks that every single person in my family has listened to. While the story is what is I love and what is important, the audiobook was the way I was able to share the story, while we were traveling. (That was on one of the previous rereads, by the way. This reread was all me, on my own. But my 9 year old was whiny because I wouldn't share my earbuds with him. He wanted to re-listen too.)
***********************************************************************
HOW I Felt After Re-Reading:
Well, gosh, I felt like I do every time I reread this book: I want to high-five the author and I want to read the book again.
***********************************************************************
WOULD I Re-Read Again:
YEP.
********************************************************************
********************************************************************
Rootless will appeal to fans of:


Post-apocalyptic/sci-fi mash-up.
Great World-Building
*Trees*
Pirates

Rootless by Chris Howard
is currently available for purchase.
********************************************************************
Audiobook Notes
: The
Rootless by Chris Howard audiobook
is published by Scholastic Audio
and is 8 hours, 24 minutes long, Unabridged. The book is narrated by
Nick Podehl
who is undisputedly one of the best, which is actually PERFECT in the case of Rootless because of the cast of characters. This narrator is one of the best for doing different and varied voices and not dropping them, not forgetting the accents and dialects, etc. He gives his characters such great enthusiasm and emotion, and I promise that listening to this book is just like listening to good highway music, particularly during the parts with my favorite characters. I laugh out loud sometimes, I hold my breath sometimes, and I shake my head NO! sometimes - this is of course due in large part to the author's storytelling, but it would be unfair not to give credit to Nick Podehl's awesome interpretation of the story. Would I recommend this audiobook? Wholeheartedly - to first time readers, to rereaders, and also to reluctant readers. Classrooms and libraries should consider adding this audiobook to their collection.
So far in the Rootless Series: