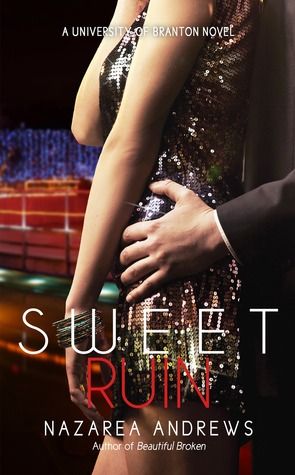 Sweet Ruin by Nazarea Andrews
Series: University of Branton #3
Publish Date: March 13, 2014

Source: Bought
Find It: Goodreads / Amazon / B&N
It's good to be on top… Asher Knox has it all. Girls, wealth, a career most would kill for. He's just landed the biggest job of his career. And he's miserable.
She's fighting her way from the bottom… Megan Beauchamp has no illusions about why she was chosen to be Asher's PA. She's pretty, and down to earth, and everything the Hollywood star always falls for. Too bad Megan is just paying her dues and has no interest in anything but advancing at her PR firm.
He'll throw it all away…Luca James knows what he wants. And he's waited a long time for the window to open—when it does, he'll walk away from the career he's built for a chance at something real.
When Megan's boss threatens to fire her, Luca and Asher convince her to leave town with them. Between bad hotels and pit stop confessionals, the three are drawn closer together. And the lines blur even more in Branton, where Megan is forced to look at everything she left behind. But when the boys want more, Megan will be forced to choose between the men she loves and the life she thought she wanted. And in a town like Branton, the secrets she keeps won't be hidden for long.
(from Goodreads)
Sweet Ruin by Nazarea Andrews
My Thoughts: I've been following the University of Branton Series by Nazarea Andrews since the very beginning, and I've had nothing but MAD LOVE for the story and the characters this author has created. I read and gushed over both This Love (HERE) and Beautiful Broken (HERE), so I was OF COURSE excited to see that the series would continue with a third book, Sweet Ruin. It took me all of about two seconds to one-click and have it delivered to my Kindle - and then maybe another two seconds to start the book. But, you guys, this one is a little different than the previous two.
Meet Megan and Asher. Asher is a famous actor but he is wildly uncomfortable with the lifestyle that comes with acting. Sure, he likes nice things, but he hates having no privacy...to the point that he needs some serious "coming-down" time after almost any type of social event or promotional event. That's where Megan comes in - she's his Personal Assistant, the only person that keeps him grounded, the only person that can talk him back from the edge of going "off the reservation" when what he really needs to be doing is promoting movies or spending some time in the spotlight. Megan knows exactly how to handle Asher - when to talk, when not to talk, when he needs to talk, etc. So far, she is the only PA that has been able to handle his mood swings or fits or whatever you want to call them, and Asher knows that he absolutely cannot do this job without her.
As the story opens, Asher and Megan are attending a large social event in Los Angeles when Megan notices that Asher isn't anywhere within her eyesight. Realizing he probably needed a breather from the crowd and constant attention, she finds him up on the rooftop. After giving him a minute to calm down, they head back down to the party where Megan runs into her best friend, Luca. First of all, Megan didn't realize Luca would be in attendance, so she is very excited to see him - hugs and excited chatter and all of that. Second of all, Asher doesn't know who Luca is and he wonders who is this guy that Megan is suddenly super-interested in. In a nutshell, Luca introduces himself to Asher and informs him that he will be working with him on his next movie. This makes things very interesting from this point forward in the story.
See, Asher has a thing for Megan. But Megan has rules about keeping their relationship professional. Luca also has a thing for Megan. But Megan has rules about what she will/will not do with in terms of her romantic life, and the kind of lifestyle Luca prefers falls under her "will not do" category. Megan has lots of boundaries.
In an effort to keep Asher from going a little nutty AND to help him research his role in his new movie, Megan decides that what he needs is 1) some time off 2) in her hometown of Branton 3) visiting with her friend Atticus Grimes, who is an expert in the subject Asher needs to research for his role. This means a nice, long road-trip, which will be time spent with Asher in a small, enclosed space. For days. Which he will probably love since he likes to remind her that he wants her.
But wait! Luca decides that he is coming along for the ride too. So now there's two guys, one girl, a car, and a long trip back home. And both guys want this girl...
*********************************************************************
This book definitely surprised me.
I began Sweet Ruin, just reading along, all excited. I immediately liked Asher - the successful, handsome actor that really craved his alone-time, needing time alone to recharge. (I identified with him in that way, I think.) I liked that he valued his privacy and respected Megan. I thought it was cute that he liked to remind her that he was interested in her often while still respecting her boundaries of working-relationship-only. I feel like he was almost a quiet character in the beginning and I thought that was so book-boyfriend-ish. I also really liked Megan - how she knew exactly how to handle Asher. She knew what he needed, when he needed it, and how he needed it. She knew what made him tick and how to help him handle the stresses he dealt with associated with his job. She made him feel like even though the world saw him as a character, she saw him as a person - I really could feel that coming through in the pages.
I liked Luca a little less from the beginning. Luca not-so-secretly also has had his eye on Megan for over a year now, but she has made it clear to him that she doesn't want the same type of romantic lifestyle that he chooses. She adores him, sure, but stays in the friendzone. They get along really well.
I think Megan really likes Asher too but doesn't want to cross professional lines.
So what we have here are two guys that both like the same girl, and she has feelings for the both of them that she is very good at keeping squashed for her own reasons. HOWEVER...
ALL of the lines began to cross, though, when the three left to go see Atticus Grimes (from the previous two books) in Branton, Louisiana. Their reasons for going to see him are solid - research for the roles Asher and Luca have in the upcoming pirate movie - but the close quarters in one vehicle with all of the sexual tension and strong crushes and overnights-in-hotels make things really, really hard for the three to keep the lines from crossing. Ultimately, every line is crossed and everyone develops feelings for everyone else that they all end up acting on. Yes, this book has sexy situations between three people in it. And the situations that I thought was a big love triangle actually is really one triangular consensual relationship.
Initially Megan did not want to cross professional lines with Asher, but she does. And she did not want to share Luca with anyone else, but she does. So the boundaries set at the beginning of the book come completely crumbling down over the course of the trip. This was an absolute first for me - I've never read a book like this before. It's a bit of a departure from the two previous books in this series as the relationship in this one is just completely different.
I think Sweet Ruin will appeal to mature readers of New Adult Contemporary Romance. There are scenes in this one that are not appropriate for younger readers, so be warned if you are under 17-18! I think many will find the three-person relationship in this book appealing and sexy, but I honestly am not sure how this will pan out in the future installments of this series because I'm not sure how a relationship like this can last - at least one of these characters have some issues that need dealing with and I am hoping for the best for that person in future books.
*********************************************************************
Sweet Ruin will appeal to fans of:

New Adult Contemporary Romance
Romance: Unconventional Love Triangle.

Be smart, younger readers!
This book is for the older-YA and adult reading crowd!
Sweet Ruin
by Nazarea Andrews
is currently available for purchase.
*********************************************************************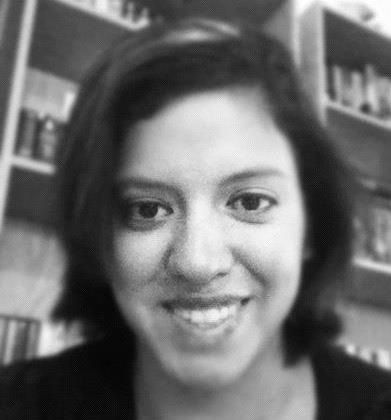 Nazarea Andrews is an avid reader and tends to write the stories she wants to read. She loves chocolate and coffee almost as much as she loves books, but not quite as much as she loves her kids. She lives in south Georgia with her husband, daughters, and overgrown dog.