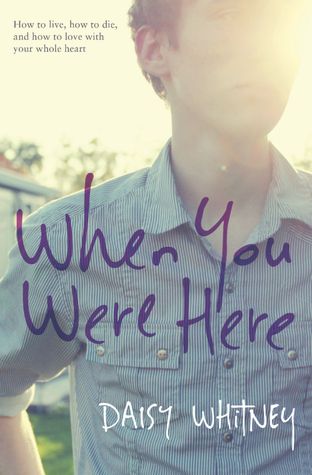 When You Were Here by Daisy Whitney
Publish Date: June 4, 2013
264 Pages
Source: Author for review - Thank you!
Find It: Goodreads / Amazon / B&N
Danny's mother lost her five-year battle with cancer three weeks before his graduation-the one day that she was hanging on to see.
Now Danny is left alone, with only his memories, his dog, and his heart-breaking ex-girlfriend for company. He doesn't know how to figure out what to do with her estate, what to say for his Valedictorian speech, let alone how to live or be happy anymore.
When he gets a letter from his mom's property manager in Tokyo, where she had been going for treatment, it shows a side of his mother he never knew. So, with no other sense of direction, Danny travels to Tokyo to connect with his mother's memory and make sense of her final months, which seemed filled with more joy than Danny ever knew. There, among the cherry blossoms, temples, and crowds, and with the help of an almost-but-definitely-not Harajuku girl, he begins to see how it may not have been ancient magic or mystical treatment that kept his mother going. Perhaps, the secret of how to live lies in how she died.
-(summary excerpt from Goodreads)
When You Were Here by Daisy Whitney
My Thoughts:

My first Daisy Whitney book was such an incredibly positive experience!
When we meet Danny Kellerman, he is a grieving boy. Just graduated, surrounded by his classmates, and yet alone. See - a while back, he lost his father. Soon after this, his sister moved to another country because her grief overwhelmed her. Recently, he lost his beloved mother to a battle with cancer and the girl that he was madly in love with dumped him unexpectedly, without an explanation. At present, Danny is left with his dog, Sandy Koufax, and his mother's best friend, Kate. Basically, Danny is alone. To make matters more complicated, Danny has to figure out what to do with 1) his life and 2) all of his mother's stuff - her clothes, her wigs, and their other apartment in Tokyo. Feeling frustrated with life at home, Danny makes an impulsive decision to visit Tokyo because his mother spent much of her final time there - he's thinking he can be in the places she was, visit with her friends there, things like that. He hopes that by doing this, he can cling to more of his mother and perhaps maybe learn more about her in the process. So he hops a plane and off he goes.
I loved Danny in Tokyo. The Danny that arrived in Tokyo was a much different Danny than the one that was so grief-striken and heavy back in the States. This Danny feels hopeful and is on a quest to learn everything he can about his mother's life there. What did she talk about with her friends in Tokyo? Did she ever talk about Danny? What are these mysterious therapies she mentioned to Danny - a special teahouse and things such as that? Danny goes to visit her favorite restaurants, her favorite prayer and meditation spots, her physician in the area. He spends a great deal of time with her friends in Tokyo. And he learns so much more than he ever imagined that he would have.
About this information that Danny learned about his mother: Danny came over to Tokyo with such grief and almost an anger about her death. He had not yet grieved completely, which is of course expected. So he had tons of unresolved issues with several people in his life, which was very interesting and at times heartbreaking to read. But what Danny thought about things surrounding his mother's death and her relationships and what actually was the truth were two totally different things. When Danny learns how things really were for his mother, as he learns more about the person she was when she was in Tokyo - when he wasn't right beside of her, taking care of her - he was able to let some of his resentment, anger, and all of the other stressful feelings go. Being in Tokyo was such a wonderful, cleansing experience for Danny. The longer he is there, the more hopeful he becomes and this is so, so fantastic to experience as a reader.
Danny's growth over his time there is...well, I'm not sure it's really growth. It's probably just acceptance of the loss of someone he loved so much. But he also gained. All of the people that his mother loved opened him with open arms and loved him because she loved him. So while he felt like he had lost all of his family, he really just gained a ton more while he was there - he gained a non-traditional family.
When You Were Here is a book about loss but it's also about finding - finding yourself, finding peace, finding forgiveness, finding new life. There is so much inside of this book and it is so quiet and beautifully written. This story captivated me and held me so tightly. It wasn't a story that I flew through - rather, I read it slowly and savored all of the words and every scene. I highlighted so many passages. I let my heart take in every detail and every feeling that Danny was experiencing, and I feel like all of his emotions and thoughts are etched deeply in my heart. I don't know if all of Daisy Whitney's books are this way, but doggone it, I certainly plan to find out. She has won my heart over a thousand times with this story and I just want to hug this book and read it again and again.
I recommend When You Were Here for fans of young adult contemporary stories, books with a great male protagonist/male point-of-view, books with issues/loss, and books that contain travel. I would suspect that most, if not all, people that pick this one up will find things on the inside to fall in love with just like I did.
********************************************************
When You Were Here will appeal to fans of:

Young Adult Contemporary Romance
Male Protagonist/Great Male POV
Romance: Already established. No triangle.
Books with Travel
Great Setting: Tokyo
Issues: Death, Grief
When You Were Here
by Daisy Whitney
is currently available for purchase.
********************************************************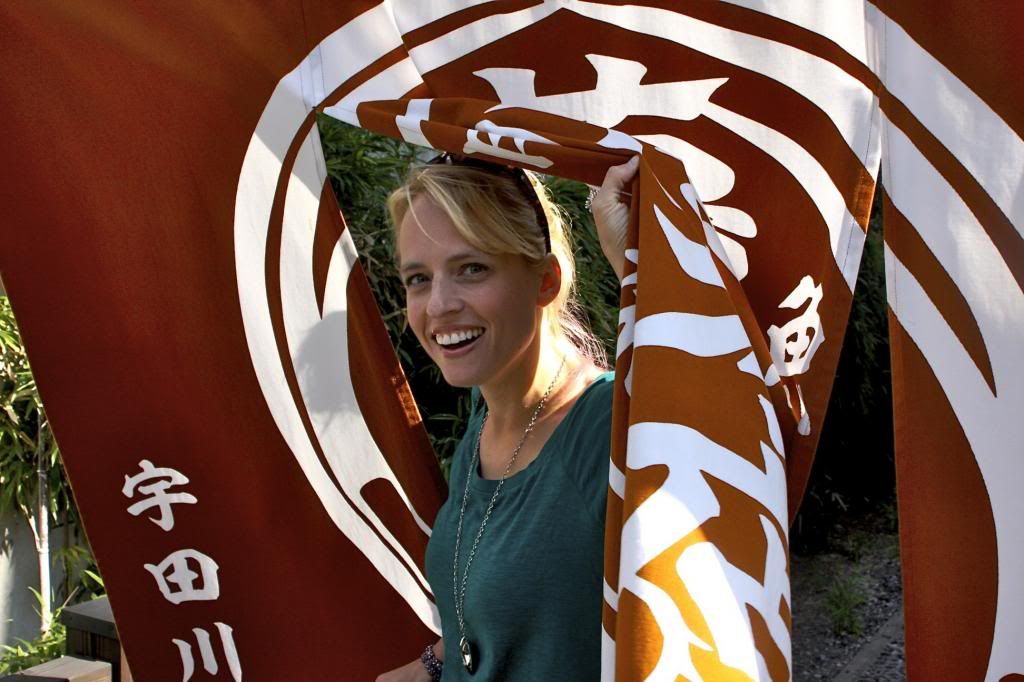 By day, Daisy Whitney is a reporter and ghostwriter. At night, she writes novels for teens and is the author of THE MOCKINGBIRDS and its sequel THE RIVALS (Little, Brown). Her third novel WHEN YOU WERE HERE releases in June 2013 (Little, Brown), and her fourth novel STARRY NIGHTS (Bloomsbury) hits shelves in September 2013. When Daisy's not inventing fictional high school worlds, she can be found somewhere north of San Francisco walking her adorable dog, watching online TV with her fabulous husband or playing with her fantastic kids. A graduate of Brown University, she believes in shoes, chocolate chip cookies and karma. You can follow her writing blog and new media adventures at
DaisyWhitney.com
.
********************************************************

I have an excerpt from the book for everyone!
We eat in silence for a minute, then Holland breaks it. "So you're going to Tokyo?"
"Your mom told you?" "Yes." "Did your mom send you to get info out of me or something?" "No. She mentioned it, and now I'm mentioning it.
Why? Is there info to get? Are you going with a girl?" I scoff. "Yeah, right. I was supposed to go with someone, but it didn't work out," I say, my eyes locked on her the whole time. "Well, I wanted to go, okay?" "So did I," I say, so low it's a whisper. But she hears me, and she inches her hand across the counter, just a little bit closer, and that hand, I want to grab it and hold on.
"Me too," she says, barely there, barely painting the space between us with all that has been broken.
I glance at our hands, so close all it would take is one of us giving an inch.
"I bought my ticket an hour ago."
"When do you leave?"
"A couple days from now. I found a good deal." She nods a few times, taps her fingers. I can feel the warmth from her hands. "Cool," she says, and we stay like that. One stretch is all it would take to be back, so I wait. Wait for her to tell me she'll miss me, to ask me to stay, to put her hands on my face and press her lips against mine and kiss me like it's the thing that's been killing her not to do for all these months. That it's not cool for me to go. That if I go, she'll be the one who's sad.
But she doesn't. We just finish our food, and she washes the plates, and the other ones that were in the sink too, and she tosses out the cartons from Captain Wong's and bags up the garbage, and she's like a nurse. She's here as a nurse. To take care of me. To make sure I eat enough food and clean the house and take my vitamins.
I watch her take my vitals and check my temperature and adjust the tubes, and when she suggests we watch a movie, here on the couch, I just nod because my heart isn't beating fast enough anymore, blood isn't pumping smoothly enough anymore for me to find the will to say no like I did last night. Evidently I can buy tickets to fly out of the country, no problem, but I can't even tell Holland to stop being so near to me all the time but not near enough.
Because she is supposed to want to go to Tokyo with me now. She is supposed to invite herself, to ask me in that sweet and sexy, that bold and confident voice, to say that I should take her along, that we promised we'd go together, that we even talked about it last summer.
As if I needed reminding. As if I were the one who'd forgotten.
Instead she turns on the TV and finds a film where the hero survives a bridge being blown up. We stay like that through fire and bombs, through fists and blows, through a knife fight in an alley, a foot away from each other, not touching, not moving, not talking, not curled up together, just staring mutely at the screen.
But faking it becomes too much for me, so when the hero clutches the crumbling concrete from the bridge, scrambling for purchase, I stand up and leave the living room, mumbling, "Be right back."
I walk to the bathroom at the end of the hall. I shut the door. I head straight for the window. I slide it open and pop out the screen. I stand on the toilet seat, then climb the rest of the way out of the
window and hop into my front yard. I close the window, and I walk and I walk and I walk.
When I return an hour later, my greatest hope is she'll be gone. My most fervent wish is that I will have made my great escape from her, from her hold on me. But instead I find her sound asleep on my couch, Sandy Koufax tucked tightly into a ball at Holland's bare feet.
I kneel down on the tiles where the book she was reading has slipped out of her tired hands. It's a paperback, The Big Sleep. I run a thumb across the cover, wondering when Holland developed a penchant for Raymond Chandler. There was a time when she would have told me her favorite parts. When she would have tried to tell me the ending because she just loved it so much, she had to share, and I'd have held up a hand and told her to stop. Laughing all the time. Then I'd have read it too, and we'd have walked on the beach and talked about the best parts. We'd have done that tonight with the movie too. Imitated the actors' inflections at their most over-the-top moments, then
marveled at the blown-up buildings.
I shut the book we're not sharing. The ending we're not talking about. I place it on the coffee table and walk upstairs, because if I stay near her, I will wake her up, rustle a shoulder, and ask her. Ask
her why she left. Ask her why she's here. Ask her what changed for her.
When I get into my bed, I am keenly aware of her in my house, as if the rising and falling of her breathing, the fluttering of her sleeping eyelids, can somehow be seen and heard from a floor above. I imagine her waking up, walking up the stairs, heading down the hall, standing in my doorway, a sliver of moonlight through the window sketching her in the dark. I would speak first, telling her the
truth—that I'm still totally in love with her. That nothing has changed for me when it comes to her.
Everything else is so muted, so fuzzy, so frayed around the edges.
This—how I feel for Holland—is the only thing in my life that has remained the same. Everyone I have loved is gone. Except her. Holland is the before and the after, and the way I feel for her is both lethal and beautiful. It is like breathing, like a heartbeat.
She would say the same words back to me, that she feels the same. Then she would say my name, like she's been searching for something, like she's found the thing she's been looking for.
Come find me, come find me, come find me.
********************************************************
And now for the Giveaway!
Author Daisy Whitney is offering
3 Personalized Signed Copies of
WHEN YOU WERE HERE
for 3 different winners!
This contest is open to US and Canada Only.
a Rafflecopter giveaway