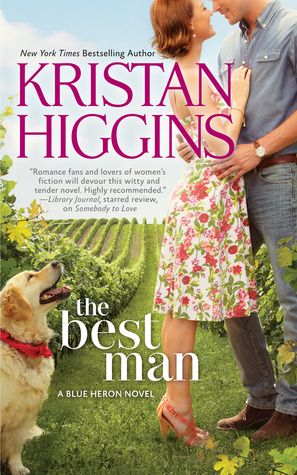 The Best Man by Kristan Higgins
Series: Blue Heron #1
Publish Date: February 26, 2013
432 Pages
Source: Library
Find It: Goodreads / Amazon / B&N
Sometimes the best man is the one you least expect….
Faith Holland left her hometown after being jilted at the altar. Now a little older and wiser, she's ready to return to the Blue Heron Winery, her family's vineyard, to confront the ghosts of her past, and maybe enjoy a glass of red. After all, there's some great scenery there….
Like Levi Cooper, the local police chief—and best friend of her former fiancé. There's a lot about Levi that Faith never noticed, and it's not just those deep green eyes. The only catch is she's having a hard time forgetting that he helped ruin her wedding all those years ago. If she can find a minute amidst all her family drama to stop and smell the rosé, she just might find a reason to stay at Blue Heron, and finish that walk down the aisle.

-(from Goodreads)
The Best Man by Kristan Higgins
My Thoughts: Okay so lately - like over the past couple of months - I've sort of opened myself up to reading adult contemporary romance books and you know what? I'm seriously loving it. Like, a lot. I've made my way through a Susan Mallery book and two Victoria Dahl books and I'm basically madly in love with both of those authors so far. I was thrilled to pieces when my library told me that this book was ready for me to pick up because I only had to wait forever for it.
The thing about Kristan Higgins, as well as pretty much all of the other popular adult contemporary romance authors, is that they have so doggone many books out there and it is very intimidating for me to know where to begin - I've mentioned this before in another blog post. So it was happy times everywhere for me when this book by this author was the beginning of a new series and had a good cover. YES PLEASE, says Asheley! I think I'll have some of that.
The first thing you need to know is this
:
As the book opens, Faith Holland has had her heart broken.
See, she's in the wedding dress and about to walk down the aisle when her fiance, Jeremy - the man she's about to marry - comes out. Yep, he announces that he's gay. That means not only will there be no wedding - not only is Faith Holland humiliated - but the entire small town that is sitting in that audience saw it, heard it, knows it.
So what does Faith do? She runs off to San Francisco - away from the pain, the embarrassment. She runs away from having to see these people every day and makes a life for herself out there.
The second thing you need to know is this
:
Then...Faith comes back into town for a visit.
Who should greet her but her fiance's Best Man.
Why is this important?
This is important because the best man, Levi Cooper, knew all along that Jeremy was gay. And he didn't say anything. He could've spared tons of heartache, humiliation, and money had he just spoken up. But he didn't. So Faith doesn't really like him. To top it all off, as she comes back into town, she keeps running into Levi in the most awkward of situations. So embarrassing!
But you know what? He's really hot. Like, he's a stunning, stunning man. This kind of thing plays tricks on her mind.
Levi and Jeremy have remained friends throughout the years - and good ones - which is wonderful. The town seems to have moved on from the unusual circumstances of the wedding. But when Faith comes back into town, it's like she brings it all back up again. The stares, the comments, the questions. But none of that is as awkward as the interaction with the super good-looking Police Chief Levi Cooper. Why the heck does Faith even care? She can't stand the guy.
The tension is quite good, you guys. I kind of loved it.
The third thing you need to know is this:
Once again, there IS more to this story than Faith and Levi.
The Faith-finds-love-with-Levi story is OH-SO-INCREDIBLE. And very sexy. And quite funny too. But there was so much more to this book that I found to love. The family dynamic between the members of Faith's rather large, rather rambunctious family at the Blue Heron Winery was hilarious. The interaction between Faith and her ex-fiance Jeremy ended up being really sweet. It's good to see that they are able to remain friends despite a horrible day and an event that could've defined them each as a person. The interaction between Levi and his sister, off attending college, was wonderful and lovely and also a little humorous. And there are also quite a few other people in the town that are colorful and add to the story in at least a dozen ways. I loved all of this.
*****************************************************
The Best Man
by Kristan Higgins is a great first experience with this author. I enjoyed this story very much and found myself laughing out loud several times throughout the book. There was one instance in particular when I was sitting in a crowded waiting room at an eye doctor's office and was laughing
so much, so loud
that I was getting stares - I had to put the book down and have a phone conversation with
Jess
from
Gone with the Words
RIGHT THEN because she'd read and liked the book too. (You can find Jess' review
HERE
. She inspired me to read this one.)
Faith Holland has a horrible, horrible record in dating. For some reason, the girl just cannot get it together. The men she picks just...aren't right for her. Either they're married with kids or they're into super-kinky sex or they're, well, gay. She's just about given up on love when she goes back to her hometown to visit with her family. Faith really isn't looking to fall in love, especially with Levi Cooper, but we don't always get to choose what our heart feels, now do we?
And that Levi Cooper...gosh, what a dreamy dude! I wanted this guy on the pages pretty much all the time. Aside from being good-looking and the caretaker of his younger sister (which is pretty darn hot, if you ask me), he just did super nice things for the people of the town. The bantering back and forth between Levi and Faith was so great to read and made for such great tension in the story, and the romantic build-up was perfect. I feel it my civic duty as an American, though, to mention that Levi was pretty obsessed with Faith's chest or rack or cleavage or boobage and a myriad of other names that he could come up with. Did this bother me? Pssst! Naw. It made me laugh. A lot.
Underlying the romance and the tension are the things about The Best Man that make it extra fun. The family. The vineyard and wine-making. The people of the town. The relationships. And the past - Levi and Jeremy (the ex-fiance) and Faith are all linked together from their younger days. As the story of their past unwinds, I fell a bit further in love with them all, even though Jeremy isn't in the picture as an actual love interest. Also, Faith has an issue or two from her past that sort of haunts her (not the wedding) and it's through a few incredible acts of kindness on the part of Levi to help Faith get over this terrible thing that I think I fell headfirst for the guy and the couple.
Levi and Faith are fun together. I liked them a lot, and I loved their journey getting there. I loved laughing while I read it. I love the fact that I was able to catch this series from the beginning and I love that the next book,
The Perfect Match
, will be out in October 2013 and will focus on one of Faith's sisters (I think). I know that I'll snatch up a copy as soon as I can.
I recommend The Best Man by Kristan Higgins to fans of Adult Contemporary Romance that enjoy lighter stories and enjoy laughing a little bit while reading them. I'm gonna be checking out the rest of this series as well as trying to catch some of this author's backlisted titles.
**********************************************************
The Best Man will appeal to fans of:
Adult Contemporary Romance/ChickLit
Romance: Slowly Developing, No Triangle.
Small Town Setting
Stories Incorporating Family
The Best Man
by Susan Mallery
is currently available for purchase.
**************************************************************
Have you read THE BEST MAN?
Or anything else by Kristan Higgins?
Tell me! I enjoyed this one!