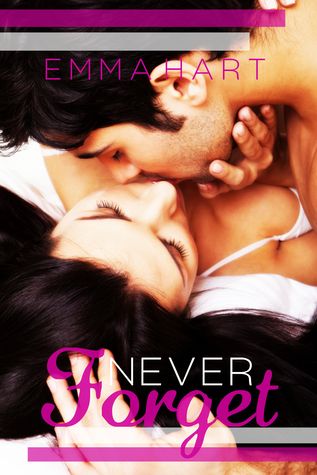 Never Forget by Emma Hart
Series: Memories #1

Publish Date: February 12, 2013
314 Pages
Source: Bought
Find it on: Goodreads / Amazon / B&N
A city girl.
A small town boy.
A summer they'll never forget.
Spending the summer at her Grammy's in Lilac Bay, Devon, is city girl Alexis 'Lexy' Edwards idea of hell. That is, until she reconnects with her childhood friend, Jen, and meets Alec Johnson.
Alec is the kind of guy Lexy knows she needs to stay away from. He's the village flirt, ridiculously hot and very dangerous to her self control. But there's a problem – she can't seem to keep him out, even though she knows he'll break her heart.
As Alec slowly strips away Lexy's defences and the two embark on a summer romance she never wanted, their feelings grow to more than either expected. But nothing lasts forever, and reality intrudes.
As her world is shaken to it's core, Lexy's self made prediction comes true when she discovers she's spent six weeks surrounded by secrets. Kept out by her family and the only guy she's ever trusted, she falls apart.
And when Grammy tells her that 'you might not end up where you wanted to be, but you'll always end up where you're meant to be,' she has to figure out if her meant to be is back home in London, or if it's been in Devon the whole time.
-(from Goodreads)
Never Forget by Emma Hart
My Thoughts: Sometimes I do this impulsive one-click thing with my Kindle, and I am not sorry - because I end up with books like Never Forget by Emma Hart. I saw this book, I read the summary, I saw the price, I one-clicked. BOOM. Then I immediately (like, right then) started reading the story and I JUST COULDN'T PUT IT DOWN. I just couldn't.
The first thing you need to know is this
:
Lexy Edwards is spending the summer in Lilac Bay.
See, Lexy is a city girl and while she used to spend all of her summers with Grammy - she hasn't been back to Lilac Bay in something like five years or so. She'd much rather be in the city with her friends, clubbing, shopping, being around boutiques and stuff. She just knows this will be the worst summer ever.
But when she gets to Grammy's house, Lexy's excitement begins to build a little: she's missed her Grammy. PLUS Grammy has been sweet enough to redecorate her bedroom (no more Westlife posters!) - she's made it a much more grown-up and lovely and relaxing place to spend the summer. Maybe Lexy can give this place a chance.
There's also THAT BOY that is working out in Grammy's garden. Who is that?
The second thing you need to know is this
:
Alec Johnson works in Grammy's garden.
And Lexy is not impressed.
Alec helps Grammy out around the house, in the garden and with odd jobs - after all, Grammy is getting older. MY GOSH this guy has these stormy grey-blue eyes and this perfect tan. Dimples, there are dimples. Oh my. Lexy is not interested in a relationship nor is she interested in making any friends this summer.
Nope, Lexy isn't impressed by this guy and his looks at all.
No way.
Alec can see Lexy staring at him from her bedroom window while he's working - she has these cappucino-colored brown eyes - so pretty - and this dark brown wavy hair. Pink lips, oh my. He waves at her, but she barely acknowledges him. Alec can see that she is a bit fiesty and there is something behind her eyes, and he can't help it - he wants to know more about her.
Alec ends up staying for dinner at Grammy's invitation - Grammy often feeds him after he works for her. There is definitely some attraction and tension there. Lexy thinks she just might be in trouble.
The third thing you need to know is this:
Even though Lexy doesn't want to make friends this summer,
her 'old' friends find her.
There's Jen, her good friend from the last time she was at Lilac Bay. And Carl, Jen's boyfriend. And as luck would have it, Carl's best friend is none other than Alec, the guy that works for Grammy. So what we have here is this perfect group of four. With Jen and Carl already a couple, and plenty of tension and attraction between Lexy and Alec, there is always interesting banter and interaction between these four.

Here's the thing:
Alec has a pretty solid reputation around the area. He's a player. BIG TIME. He has his reasons, and it isn't long at all before Lexy knows all about him. If there was a chance at all that she would give this boy the time of day (nope!), it is lessened by his reputation. She. Is. Not. Interested. Nor is she impressed. (That's what she tells herself.)
The thing is this: Alec really likes this girl. He actually likes her enough to stop his party-boy behaviors. He doesn't think she's just hot; he thinks she is beautiful. And he wants to prove to her that he can be good for her if she'll just give him a chance.
*************************************************************
YOU GUYS, this story. Never Forget by Emma Hart has taken these characters that we know or we've been and she has made this story that we've either lived or watched our friends live. Don't you just love stories like that? The ones that are so easy to relate to? I DO. These characters are at that perfect place in their lives - between graduation and going off to college - and this is THAT SUMMER and it is such fun to be a part of their life during that time.
Lexy is great - she is a city girl, yes, but she acclimates to the quieter life of the small town so well. After the initial shock of arriving at Grammy's house, she absolutely embraces being there with her grandmother (which I loved) AND she embraces her old friends and new ones too. I loved reading her character - Lexy is a pretty strong and opinionated girl, and whatever she is thinking or feeling is known to us. She has this vulnerable fear, though - this fear of being hurt - and this is one of the things that keeps her from giving herself completely over to her relationships. This is something that Lexy has to work through and is an ongoing issue and topic of conversation throughout the story. It's tough for her, but she's a fiesty and tough gal, and her development over the course of this is good.
And good gracious, Alec Johnson. The boy with the reputation that fights the reputation. What a guy! I love the dynamic between Alec and Lexy - she isn't interested in him initially because she doesn't want a relationship and then because she's heard all about him. Alec shocks his friends by wanting to be a different person so he can have a shot with Lexy. And not a shallow, one-night-stand kind of shot - he is really into this girl and wants to make it work. He just has to break through her walls...The thing about this guy is that he means what he says - he takes his time, showing her his heart and his intentions instead of just turning on the sexiness. I'm so impressed with his character and what he has to go thru to get to the endpoint. What a great, great guy. Such a fun character to read.
With the secondary cast of friends and family supporting Lexy and Alec, the story of their romance is just SO GOOD. It is slowly-building and somewhat reluctant. They take their time getting to know one another - a true romance. When they fall, they fall hard. Unfortunately, as things would have it, life happens and there is a point where people get hurt and there are things to be dealt with. The issue of whether or not Lexy and Alec could come out on the other side of the things for the better was one of the reasons that I just couldn't put the book down.
I love this story. I love this entire cast. I love these main characters - their strengths and their flaws. They are young and they are written so perfectly for their ages. They remind me of being this age and they do the things that real people in their situations do. They are so much fun. I love that Lexy and Alec eventually become involved in an exclusive romance, but they involve their friends Carl and Jen all along the way - the friendship bond is so important in this book. So strong and healthy and just good.
I also love the way the author wrote the family relationship - this family absolutely adores each other. They're loud and they eat meals together and they pick on one another and they care for one another. There is so much page time given to this great, positive, fun family interaction and that doesn't happen very often anymore. They're developed well enough that you feel like you know them more than just people you bypass on a page - Lexy's brother, Bing, is a standout family member and brings some comic relief. Even Alec's family interaction is nice, even though his family dynamic is different than Lexy's.
And this setting: England. I was Google-Earthing like crazy because it was so well written in the book that I had to KNOW more about these places I was reading. Even without the use of the internet, I felt like the setting was so visual to me, which is something that I appreciate a ton (particularly wtih books set around the ocean). Readers that really love English settings will enjoy Barnstaple, Devon, Lilac Bay and the mention of London.
I can't talk this one up enough. I read it and devoured the story, and it was because I enjoyed it so much. These characters are going through this time in their life that is so relatable to so many of us, and it is written so well - not heavy at all - just a joy to read. The relationships - all of them - are given to us in a way that is great and respectful and awesome, and I know I'm repeating myself when I talk about how much I love these friends. The next couple of books coming out in this series, Holding On and Always Remember, feature some of the other members of the cast and I'm actually really excited to see how their stories will play out as well.
I recommend Never Forget to readers that enjoy both New Adult (and mature Young Adult) contemporary romance, coming-of-age tales, great friend and family relationships, and an English setting. Also, swoons aplenty!
*********************************************************
By day, New York Times and USA Today bestselling New Adult author Emma Hart dons a cape and calls herself Super Mum to a terrible two year old and growing bump, due September 2013. By night, she drops the cape, pours a glass of juice and writes books. She likes to write about magic, kisses and whatever else she can fit into the story. Sarcastic, witty characters are a must. As are hot guys. Emma is currently working too many books to even count - including Playing for Keeps, the companion book to New York Times and USA Today bestselling novel, The Love Game. She likes to be busy - unless busy involves doing the dishes, but that seems to when all the ideas come to life.
*********************************************************
Never Forget will appeal to fans of:

New Adult Contemporary Romance
Romance: Slowly-Developing. No triangle.
Coming-of-Age
Great Characterization
Setting: England
Never Forget
by Emma Hart
is currently available for purchase.
*********************************************************
You guys I LOVE THIS STORY.
I am so excited to keep reading this series
and to read this one over and over.
ALSO: this is a great example of
NEW ADULT done really well!