I'm excited that today is my stop on the
No Attachments by Tiffany King Blog Tour!
Make sure you visit the Blog Tour Webpage t
o see the rest of the tour pages
because there are TONS of chances to win some great prizes including
a signed copy of the book!
No Attachments by Tiffany King


Publish Date: April 30, 2013




302 Pages




Source: Author for Review -

Thank you!
Ashton Garrison walked away from a privileged life in order to hide from the one thing she's not willing to face. She knows she left behind a trail of pain, but in the long run, her betrayal will hurt less than the truth. She now has one goal: Live life to the fullest with no regrets and no attachments. She has high hopes that a move to new surroundings will provide the escape she desires, but what Ashton doesn't count on is how fate always seems to find a way to screw up any good plan. Sometimes, when love comes knocking, the pull is too strong not to answer. Suddenly, what she thought she wanted to escape from is what Ashton now wants more than anything.
Nathan Lockton has one mission: find his target and complete the task he was hired to do—no attachments and no emotion necessary. He's done it over and over again. What he thought was a typical lost-and-found job has turned into a life examining moment as Nathan is forced to deal with something he has always ignored--his feelings. Now faced with a decision, Nathan must choose to either follow his heart or complete the job.
Love can come when you least expect it. The question is: If the odds are stacked against you, how far are you willing to go for the one you love?
-(from Goodreads)
(You can read my thoughts on No Attachments HERE.)
********************************************************
I'm thrilled to have Author Tiffany King on the blog today
to share an excerpt from No Attachments with us!
********************************************************
Ashton
His eyes closed briefly. "I'm beginning to think you'll be the death of me."
"It's your own fault," I breathed into his ear.
"I'm trying to show you a proper date, and all I can think about is burying myself in you."
"Proper is boring," I commented, shifting again.
"Damn, woman," he groaned, pulling my hips hard against him one last time before abruptly lifting me off his lap. Hopping to his feet, he pulled me up with him. "Phase two of the date," he stated, dragging me toward the canoe on the shore.
"Where's the fire?" I complained, trying to clear the fog out of my head his kisses had caused.
"Burning out of control inside me. If I didn't get you away from the blanket, it was go time," he stated.
"I thought that's what we were here for," I piped in, looking back at the blanket longingly.
"I'm aware of that," he said, shooting me a wry look as he pushed the canoe to the water's edge. "Hop in," he told me, holding the canoe in place.
"I'd rather go back to the blanket," I pouted, looking over my shoulder at the blanket one last time.
"Get in," he mocked growled, making me laugh.
Stepping into the canoe, I braced my legs, trying to gain my balance from the swaying beneath me. When it finally stopped rocking from my weight, I sat on one of the narrow metal benches.
"Here," Nathan said, handing the two oars to me before climbing into the canoe. The canoe rocked dangerously from his weight before settling back down. Sitting on the bench opposite from me, Nathan reached out for one of the oars. He used it for leverage, pushing against the bank of the lake until the aluminum canoe moved off the sand that was holding us in place. Once we were adrift, he reached for the other oar. He made short work of rowing us away from the shore.
I leaned my head back, wishing the thick heavy clouds weren't obstructing the moon and stars. I had to admit though, the clouds gave off a different allure that was beautiful in its own way. It was as if we were floating off into some mysterious void, shrouded in darkness and haze. When I had added this moment to my list, I always imagined something breathtaking, but the weather today made this something more. I could have stared at the big puffy clouds all night if not for the fact that the breeze blowing off the water was chilling me to the bone. A violent shiver trembled through me as one of the gusts sliced through my clothing.
"Come over here," Nathan said, indicating the floor of the canoe between his legs where he'd stacked a couple of lifejackets for me to perch on.
I moved cautiously so I wouldn't tip the canoe. With his help, I sank down on the lifejackets between his legs and felt warmer almost instantly. I leaned back against him, resting my head on his chest so I could look at the sky again.
"The clouds look amazing," I murmured.
"Very," he answered, trailing a hand across my cheek. I tilted my head and saw that he wasn't talking about the sky like I was. He cupped my face gently in his hands, holding it in place. My breath hitched in my lungs as he leaned in to drop a soft kiss on my lips. Where the other kisses we had shared ignited the lust we felt for each other, this kiss was something entirely different. The softness of his lips caressed mine as his tongue slowly slid into my mouth. He explored my mouth leisurely, never increasing the intensity. It was as if he was trying to memorize every detail and was meticulous with his mission. The tenderness of his mouth made my heart ache and I wished it would never end. That is, until a large drop of water landed on my
cheek, quickly followed by another, and then another.
Okay, well, I liked that little kissy part there at the end!!
I can't wait for you all to read this one!
********************************************************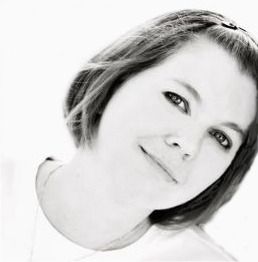 Tiffany King is the author of The Saving Angels Series, Wishing for Someday Soon, Forever Changed, Unlikely Allies, Miss Me Not and Jordyn: A Daemon Hunter Novel book one. Writer by day and book fanatic the rest of the time, she is now pursuing her life-long dream of weaving tales for others to enjoy.

She has a loving husband and two wonderful kids. (Five, if you count her three spoiled cats). Her addictions include: Her iphone and ipad, chocolate, Diet Coke, chocolate, Harry Potter, chocolate, and her favorite TV shows. Want to know what they are? Just ask.
********************************************************
And now for the Giveaway!
Author Tiffany King
is offering
a
SIGNED COPY OF NO ATTACHMENTS,
a 16x24 NO ATTACHMENTS POSTER, and
a NO ATTACHMENTS CHARM NECKLACE
a Rafflecopter giveaway
Don't forget to visit the Blog Tour Webpage HERE for a list
of all of the participating blogs offering giveaways!