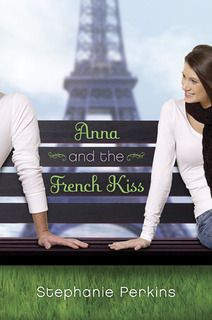 Anna and the French Kiss
by Stephanie Perkins
Series: Anna and the French Kiss #1
Published by Dutton
Publish Date: December 2, 2010
372 Pages
Source: Print - Bought, Audiobook - Library
Find it on: Goodreads / Amazon / B&N
Anna is looking forward to her senior year in Atlanta, where she has a great job, a loyal best friend, and a crush on the verge of becoming more. Which is why she is less than thrilled about being shipped off to boarding school in Paris--until she meets Étienne St. Clair. Smart, charming,
beautiful
, Étienne has it all...including a serious girlfriend.
But in the City of Light, wishes have a way of coming true. Will a year of romantic near-misses end with their long-awaited French kiss?
-(from Goodreads)
Anna and the French Kiss
by Stephanie Perkins
My Thoughts: Last year around the time of this Contemporary Month event, I read Anna and the French Kiss for the first time. It was a Sunday afternoon, if I remember correctly, and I read the whole thing pretty much at once. I remember thinking OH HOW CUTE. And then that was it - for awhile. Then I thought about it for a while longer. And the more I thought about the book, I just didn't like it. And that made me so sad.
Not only did it make me sad, but it made me feel SO DISCONNECTED from the entire world of contemporary-reading people. I could go into my reasons for not liking it, but I'm not going to because they don't really matter right now. Actually, you people love some St. Clair and frankly, I'm a little afraid. So...
Here is what's important:
Back in March, I wrote this post about how I like to re-read books that I didn't love the first time. This book is included in that post. I knew that with this Contemporary Month event coming up, Anna and the French Kiss would be a book that I would re-read because I didn't feel like I gave it a good chance before (the reasons why are in that post) and because I haven't read Lola and the Boy Next Door yet. SO Y'ALL I RE-READ THE BOOK. With an open(er) mind. And of course, I did my audiobook + print thing. The verdict: this time I liked it.
YAY! Right?
WELL, FRIENDS: There are things about Anna and the French Kiss that just make my heart clinch up and squeeze up and hurt so much. My heart isn't supposed to hurt when I read this book! So why does it?
I get Anna. I do. She's the high-schooler with the crush that turns into love - but you see, she falls in love with her guy friend. And this guy friend has a girlfriend. So what does she do? She just keeps being a really good friend to him while her heart just breaks over and over. Sure, there's more to it than that. But not really.
And St. Clair. So swoony, this guy. Such a fun friend and then OOPS! he falls in love with Anna. Still, he stays with his girlfriend. While he is in love with his friend. Who is also in love with him. Yes, there's more to it than that. But not really.
I MEAN, IT AIN'T LIKE THEY DON'T KNOW THEY'RE IN LOVE.
So...sometimes in high school, young people fall in love. With each other. And sometimes it's while they're dating other people. I GET THAT. I really do. And I think that part of this book is so good. But I tell you all with a serious face, I am a big kid now and it is heartbreaking to read these stories about people that just can't talk about their feelings. I mean GOOD GRACIOUS this story has the romance everywhere and the chances for these two are just so many, but no, no, no...
I LOVE guy/girl friendships. I do. Y'all have seen me talk about them. You've seen me talk positively about books that promote them like this one that is one of my favorites, forever. I freakin love my guy friends. So it isn't that I'm trying to take the focus off of Anna and St. Clair as friends - I just wish that as friends they could've been truer to their feelings. Friendships are the best when they can be open and honest and talk about things.
So, the second time around, I liked Anna and the French Kiss. I liked the cheesy romance and the cliches with the great setting and the fantastic pop culture references (ily forever, Danny Boyle!). And it is because I liked it that I felt these things as I was reading it and listening to it. The first time, I felt nothing and remember basically nothing from the story. So this re-read was a very positive experience for me, albeit a painful one in terms of my heart, even though it is a HEA. Don't feel sad for me - I love the doomed/impossible/tough relationships and I love guy/girl friendships, so I had a great time. I just wanted these two to talk a lot earlier and kiss a lot more.
Audiobook Notes: The Anna and the French Kiss audiobook is published by Listening Library and is 10 hours, 29 minutes long, Unabridged. The book is narrated by Kim Mai Guest who does a pretty good job with all of the accent parts and non-accent parts. More than anything else, I appreciate that this narrator is able to capture all of the happiness, all of the frustration, all of the confusion, all of the everything - all of the emotions that go along with this period of time in a young person's life and this situation in particular. Certainly listening to the audiobook as a re-read enhanced my enjoyment of this book and I would recommend it to other audiobook readers.
********************************************************************
Anna and the French Kiss will appeal to fans of:


YA Contemporary Romance
Romance: kind-of a reverse love triangle?
Great setting: Paris

Anna and the French Kiss by Stephanie Perkins
is currently available for purchase.
********************************************************************
See, friends!?
THIS is a perfect example of a successful
re-read when the first time wasn't so great.
GO AHEAD. TELL ME HOW HAPPY YOU ARE
THAT I GAVE THIS ONE ANOTHER CHANCE.
DO IT!
It's not the only contemp I gave another chance!
I'm still pretty broken up about the talking-thing.
That's not going to change.
Friends need to TALK.
But whatever. Onto Lola!