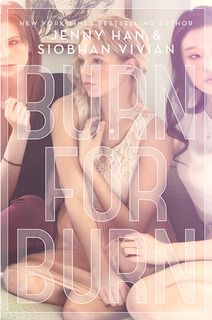 Burn for Burn
by Jenny Han & Siobhan Vivian
Series: This is the first in an untitled trilogy.
Published by Simon & Schuster BYR
Publish Date: September 18, 2012
368 Pages
Source: Publisher for Review

BIG GIRLS DON'T CRY...
THEY GET EVEN.

Lillia has never had any problems dealing with boys who like her. Not until this summer, when one went too far. No way will she let the same thing happen to her little sister.

Kat is tired of the rumours, the insults, the cruel jokes. It all goes back to one person– her ex-best friend– and she's ready to make her pay.

Four years ago, Mary left Jar Island because of a boy. But she's not the same girl anymore. And she's ready to prove it to him.

Three very different girls who want the same thing: sweet, sweet revenge. And they won't stop until they each had a taste.
–(summary from Goodreads)

by Jenny Han & Siobhan Vivian

My Thoughts: Wow, this book was fun! It was fun in an "I wasn't expecting it to be this much fun!" kinda way. I actually ate lots of Raisinets while I read this one. I never eat candy when I read. So, yeah, do with that what you will.
1. The Characters.
Mary

. Mary has just moved back to Jar Island after being gone for a long time. She has a new look and is on a mission: to make

him

pay. Even though Mary wants revenge for what

he

did to her, she still wishes he would recognize her,

just remember her

, but he never does. For Mary, revenge is never a question. He's gonna pay.

Lillia. Lillia is rich, used to getting what she wants, and friends with some pretty shallow people. After being talked into going somewhere she doesn't really want to go, something awful happens. Lillia wants to make sure the same thing doesn't happen to her younger sister Nadia, who is a little too involved with one of her own guy friends. He is too old for Nadia and he knows it. Lillia is willing to do some crazy stuff to make sure their interaction does not continue.
Kat. Kat is a little different than the rest of the rich crowd - she likes motorcycle boots, heavy eyeliner, and grungy rock music while everyone else is preppy. There's this one rich girl that has always been super mean to her - makes fun of her in front of everyone, spreads gossip about her that isn't true, that sort of thing. The bad part is that they used to be friends. Hmm, sounds like little rich girl needs to be taught a lesson.


The truth is that Lillia is in the circle of friends with all of the people that are about to pay. Things will be hardest for her - but she is absolutely integral to the operation because she is the insider. Also interesting is that while Lillia is one of the rich kids, she is also a nice girl, so her conscience does come into play here and there.
2. The Story. T
hree girls have each been wronged by three different people. These girls would ordinarily have no reason to be friends at all because they come from different crowds at school
BUT
they are united in their desire for revenge on the person that has done them wrong.
One of the girls comes up with the brilliant thought that if they work together, it'll be much easier to seek out revenge than if they work alone.
They agree, set their ground rules, and get started. And DUDE - they mean serious business.


The story is told in alternating POV's: Mary, Kat, and Lillia. This is great because you get an idea for what each girl went through, why she wants revenge specifically, what her part is in the plan, and what everything looks like through her own eyes.
3. The Genre. Contemporary, with a dash of supernatural. Where the heck did that come from? I suspect there may be more of the supernatural stuff in the next book. ALSO, I did not realize this book was in a planned series until I got to the end and thought I was missing some pages. Folks: THIS IS A SERIES. Don't let it deter you from reading this book, because it is tons of fun.
4. Romance. No, not romance - revenge. (Although there is one boy and one girl that kind of I'm rooting for since I now realize this is a series.)

***********************************************************
Burn For Burn is a fast, fun contemporary book with a strange, twisty dash of supernatural thrown in towards the end that surely hopefully will be explored more in the next book. It's almost like a mixture of Mean Girls and Pretty Little Liars and popcorn and pajama pants and YOU JUST CAN'T LOOK AWAY. It's addicting. These girls mean serious business when they make their plan, and I give them mad props for sticking to it (although I am not saying that you should go out and do bad things to people that do bad things to you, because that isn't nice at all). Burn For Burn is super entertaining and I want the next book immediately, please.

I loved each of the three girls. Mary was a bit strange and mysterious. It takes a while to put together her story, but I liked it that way - because I think her story might possibly be the strongest. I have my eye on and expect big things from Mary in the next book. Lillia seemed very much like an open book - a little shallow, but more kind than any of the rest of her friends. I could appreciate her even though she hung out with a group of people that I was not supposed to like. I liked that she made some mistakes throughout the book and owned up to them, even if it was sometimes only admitting her mistakes to herself. *looks around* At one point Lillia questioned whether or not the revenge was a little overboard, but she stuck with it because she made a promise - so while this thinking is a little twisted, at least Lillia is thinking, right? *looks around again* I'm looking for some growth for Lillia by the time the next book comes around because she is in an odd position at the end of the book, with her sometimes-conscience and being in the circle of friends and all.
And Kat! YAY for Kat! Kat is my favorite of the three girls. She doesn't like taking crap from people. She comes across as a person who is hardened, but inside she is hopeful and has the same desires that everyone else has. In some weird ways, Kat reminds me of myself, so I think that is why I liked her so much. She was the smartest of the three as well, in my opinion, even though it wasn't smart to do things outside of the law and risk, oh, pretty much your entire future just to seek out revenge.
Look, it boils down to this: I liked this book a lot. I read it fast, like it was gonna be snatched away from me at any moment. I had no idea it is a series book, so now I feel like I'm waiting for someone I'm missing to come back home from being away for a long time. I love the cover. I didn't have to think too hard to read it. It was like watching one of those awesomely entertaining shows on the CW (on American television). I want to know what happens next because I feel like I'm holding my breath. HOLDING MY BREATH.
Such fun, this one.
I recommend it for people that like easy, breezy, light books in between heavier or lengthier books.
It's contemporary but there are tiny instances of supernatural-ness in there.
Why?
I'm not sure yet.
Burn For Burn will appeal to fans of:


YA Contemporary
Mean Girls, Revenge
Alternating POV's
Great Setting


Burn For Burn by Jenny Han & Siobhan Vivian
will be available for purchase on September 18, 2012.


**
I received a review copy from the publisher in exchange for an honest opinion and review. I received no compensation for my thoughts. Thank you Simon & Schuster!

*************************************************************


Is Burn For Burn on your to-read list?