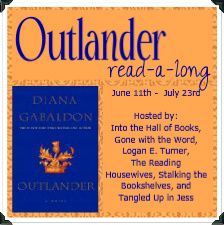 Welcome to Week Five of the Outlander Read-Along everybody!
These are Asheley's Questions from Chapters 29-35.
The Questions for Week Five are by Jacinda @ The Reading Housewives!
Tweet while you read! Use:
#OutlanderRA
***********************************
Week Five: HELP ME PLEASE!!
1. We are now settled into Lollybroch. What are you impressions of this place, and Ian and Jenny Murray? How do the stories of Jamie's life here growing up shape your feelings toward him?
In all honesty, I'll be the negative one and say that I'm bored senseless by Lollybroch so far. It has been like pulling teeth to get me to read this part. I don't know why. I'm even a bit bored with Ian and Jenny. I almost feel like they're so far removed from the story and the characters that I'm used to - the really exciting ones that keep me holding my breath and biting my nails - that they just bore me to tears. SO FAR. I know a lot of you probably really liked them, and I feel awful for saying these mean things about Jamie's family! (I'm sorry Jamie. I still love YOU though. We still good? GOOD.) I can feel the love between the brother and sister, but I also feel as out of place as Claire seems while reading Lollybroch, if that makes any sense at all.
2. What do you think of the story that really happened between Jenny and Jack Randall? Could you have been as bold as Jenny? Does this change your understanding of Randall?
I was shocked at the exchange between Jenny and Randall! I had what I thought was the situation pretty rooted in my head. I already KNOW that I can't stand Randall - he is basically unredeemable to me at this point and makes me terribly uncomfortable. I've already told you guys this. But hearing Jenny's story just was something that I wasn't expecting!
Would I have been that bold? NO. I lack boldness and I know this about myself! I can add bold to type in a blog post, but that is as far as my experience with boldness goes. I'd probably have been a goner, which is a very morbid thought but also truth. Do I understand Randall better? Maybe, but then again, I just honestly don't care to understand him better. I am unnerved by him in such ways that I can't quite explain. (Mind you, I hear there may be things going down with him later in the reading. I'm answering as I go along. I'm more than a little afraid of what may be coming up.) *EDIT: I'm horrified. Shaking, even. I cannot stand what I just read. I should've skipped Chapter 35 entirely.*
3.
For the second time, we see Claire warning a Fraser about future events. Do you think this is wise? Or does this mess with history/the space-time continuum/the natural order of things
?
I don't know if it is wise or not - I've seen the movie The Butterfly Effect, I think it is, where one tiny action changes the future in big ways. However, I like this family and I want their lives to be spared as well as their lands and their people. So in this case, as hypocritical as it may sound, I'm okay with what Claire did. It kind of goes along with time-travel, the being able to influence the time, no? So, yeah, I'm okay with it, although I'm not exactly sure on the wise-ness of it. Does it mess up the history/order of things? Most likely. And hopefully for the good of the family!
4. Do you consider Claire brave or foolish for going after Jamie? Would you be courageous enough to go into enemy territory to try to save the man you love?
I think Claire is foolish in most of the things we've seen her do. She's bold, driven, and brave. But she's definitely foolish. There are men in the area that would've banded together, I think, and gone to rescue Jamie. He's well-liked among his people and I'm not sure how necessary her rescue is. But it IS Claire and her actions such as this have made the story what it has been so far.

I don't know if I could go into enemy territory and save the man I love. He'd have to be a pretty awesome man. (WITH A GREAT VOICE. Yeah, I just said that. So what?) I'm not very brave, I'm very clumsy, and I'm pretty sure I'd cause more problems than I'd solve. So more out of having-smarts than not-having-courage, I'd probably defer to the men of the area to rescue him and I'd probably be at home worrying myself to pieces.
5.
Jamie makes a gut-wrenching decision in Chapter 35. Do you blame Claire for putting him in that position? What kinds of repercussions do you expect?
I actually don't think this is Claire's fault. I think Randall had his mind set on Jamie and would have found a way to do this awful thing whether or not Claire was there - it was just a perfect way for Jamie to bargain for her life and a perfect way for Randall to get what he wanted without having to use extra force.

I believe wholeheartedly in Jamie. I believe in justice for the bad guy. And I can't wait until he gets it.
I had an unbelievably hard time with the reading
this time. This rarely happens with me.
I feel really down on the story right now.
*************************************************
Here's the remainder of the schedule: