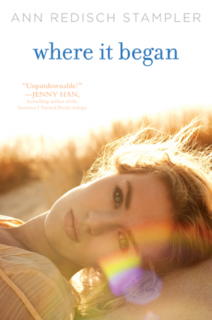 Where It Began by Ann Redisch Stampler
Published by Simon Pulse
Publish Date: March 6, 2012
369 Pages
Source: Finished Copy from author & publisher

Sometimes the end is just the beginning.

Gabby Gardiner wakes up in a hospital bed looking like a cautionary ad for drunk driving—and without a single memory of the accident that landed her there. But what she can recall, in frank and sardonic detail, is the year leading up to the crash.

As Gabby describes her transformation from Invisible Girl to Trendy Girl Who Dates Billy Nash (aka Most Desirable Boy Ever), she is left wondering: Why is Billy suddenly distancing himself from her? What do her classmates know that Gabby does not? Who exactly was in the car that night? And why has Gabby been left to take the fall?

As she peels back the layers of her life, Gabby begins to realize that her climb up the status ladder has been as intoxicating as it has been morally complex... and that nothing about her life is what she has imagined it to be.
–(summary from Goodreads)
Where It Began by Ann Redisch Stampler

My Thoughts: Where It Began is the captivating story of Gabby Gardiner as she tries to put her life back together after a devastating car accident that left her face flawed and her body battered. She cannot recall the events of that night; she has no recollection of how she ended up on the ground near Billy's wrecked BMW, holding his car keys and wildly intoxicated.
All she knows is that she woke up in a hospital, Billy isn't there, and no one is telling her where he is.

1. The Characters. Central to the story are Gabby Gardiner and Billy Nash. Gabby awakens in the hospital with no recollection of the events that landed her there. She only has memories of before her accident, and they are filled with great times with her rich, gorgeous boyfriend, Billy. Gabby is head-over-heels in love with Billy - the kind of love that is blind to everything and sees no wrong, ever. Billy has a genuine affection for Gabby and their romance and courtship is cute and fun to read about, but it is clear to the reader that Billy feels differently than Gabby does - there's just something a little less about the way that Billy feels.

Before the accident, Gabby's self-esteem seemed a little lacking at times
. I completely blame her mother for this. However, she was a funny gal and her sarcastic, dry humor is something I enjoyed.
After the accident, Gabby struck me as the type of girl that was sometimes fiercely determined to get better
but yet at other times she seemed weak and unable to make decisions for herself. Gabby
almost seemed like a different person on every page, which I suppose can be very true to someone her age - moody, flighty, trying to find her place in the world, and doing it all while recovering from a closed head injury. I wish that I could have connected just a little bit more with her. Even so, I was still very invested in her story and felt very emotional for her and what she was going through.

Billy was a bit of a mystery to me. He carried an air of confidence all the time, almost like a swagger. He always had an answer for Gabby's never-ending questions, always a plan. Billy surprised me in more than one instance with his inclusion in a few twists in the plot. I think he was very well-written and interesting to read even though he made me mad a time or two.

2. The Secondary Cast. The secondary cast of this story was so important to Gabby and her memory-building. See, there was a party before the car accident. It was at this party that Gabby consumed so much alcohol. There is a big question mark in Gabby's mind between the party and waking up in the hospital room, and this includes leaving the party and the accident. Most of the student body was present at the party, meaning that tons of people saw what happened. Some try to help her remember what happened; others try to help her memories stay buried. Some of the secondary characters really add so much to the story.

Gabby's mother and Billy's mother were also interesting secondaries. Both seemed a little overprotective, overbearing, and not-so-great as parents. Both irked me a great deal more than once in the book. Still, they were really great characters and played big roles in the story.

3. The Writing. There is something neat about this author's writing. I'm thinking it is because she writes like Gabby would talk - There's plenty of snark and sarcasm (which I loved because I was that way when I was Gabby's age, and probably still am to a degree). Reading Gabby's voice in Where It Began was like being inside of her head or beside her while she was carrying on a conversation with me.

4. The Ending. Twists and turns! There is a bit of mystery in the story, even though the story isn't a mystery. It's built-in, of course, because even though we may have our suspicions about what happened on the night of the accident, we do not actually find out until Gabby does. And even after the twists and turns, I was still shocked by an event or two. Just, wow.

5. The Cover. This is one of the most beautiful covers I've seen in a long time, particularly for a YA Contemporary book.

*************************************************************
Where It Began

is a lovely story written about a girl who is trying to rebuild her life after a tragic accident, and the trials she has to go through to make that happen.

Things are tremendously hard for her - probably harder than they ought to be - and we have the uncomfortable (at times) job of watching her have to navigate through this with an overbearing, not-so-great mother with mixed-up priorities and a boyfriend that has wonky motives, at best.
While I wish I was able to connect more deeply with Gabby, I think she truly kept me at arm's length, as w
ell as everyone else, because we simply were not Billy - and she was blind to everyone and everything but him, even when this was not good for her. Despite not making a deep connection, I felt very emotional for her and desperately wanted her to be able to get the answers she sought.

Where It Began is a great YA Contemporary book for those who love stories that are a little bit suspenseful but not overly so, because it is not a thriller. I think readers who like romance with some issues will love this one. I think readers will turn the pages fast and try to figure out exactly what happened to Gabby on the night of her accident, just like I did.
Where It Began will appeal to fans of:


Romance-No Love Triangle
Strong Secondary Cast
Some Issues: Drinking

Where It Began by Ann Redisch Stampler
is currently available for purchase.
**
I received a review copy from the author and publisher in exchange for an honest opinion and review. I received no compensation for my thoughts. Thank you Simon Pulse!
*************************************************************
Guys, how BEAUTIFUL is this cover?
Is Where It Began on your wish list?
Click HERE to see the
Guest Post with Author Ann Redisch Stampler
& enter to win one of four
Signed Bookmarks
!