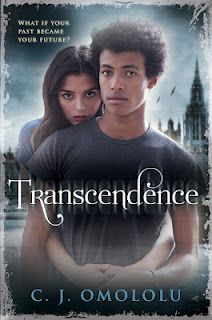 Transcendence by C.J. Omololu
Published by Walker & Company
Publish Date: June 5, 2012
336 Pages
Source: NetGalley

When a visit to the Tower of London triggers an overwhelmingly real vision of a beheading that occurred centuries before, Cole Ryan fears she is losing her mind. A mysterious boy, Griffon Hall, comes to her aid, but the intensity of their immediate connection seems to open the floodgate of memories even wider.

As their feelings grow, Griffon reveals their common bond as members of the Akhet—an elite group of people who can remember past lives and use their collected wisdom for the good of the world. But not all Akhet are altruistic, and a rogue is after Cole to avenge their shared past. Now in extreme danger, Cole must piece together clues from many lifetimes. What she finds could ruin her chance at a future with Griffon, but risking his love may be the only way to save them both.

Full of danger, romance, and intrigue, Transcendence breathes new life into a perpetually fascinating question: What would you do with another life to live? –(summary from Goodreads)

Transcendence by C.J. Omololu
My Thoughts: Transcendence is a fun story about reincarnation and love. And there's music in there in the form of a cello, which sort of thrilled me to pieces.

Cole Ryan is visiting London with her sister and father when she starts having these very strange, oddly familiar visions. She watches a beheading with near-clarity while her sister thinks she is dehydrated and about to faint. Griffin Hall, standing nearby, comes to her rescue and BAM! an instant connection is made between the two.

It turns out these two have something in common – they're both Akhet. Akhet are people that can remember who they were in lives past. These people tend to keep their memories in each life while everyone else just starts over with new memories with each new life. The Akhet can sense each other in proximity, which is why Griffin was so quick to rush to Cole's side when she was acting sick – because he knew the real reason for her behavior. While most Akhet are the good guys, some end up being the bad guys. Rogues, they called them. Interestingly enough, Cole has a rogue on her trail and Griffin is the guy who will step and and not only teach her about what she really is, but he'll try and keep her safe as well.

**********************************************


Transcendence is a good story with good pacing and an interesting take on reincarnation. There is a romance and it comes fairly quickly and is near-instant but there is no triangle. There are a few twists and turns thrown in toward the end, which were a little bit shocking to me but certainly kept me interested…and while the ending isn't exactly a cliffhanger, it does leave things wide open for the next book to take off at brisk pace.


In the beginning, I didn't realize how much of a big deal the cello would be in the story. I thought it just a little detail. It actually ended up being rather huge, and I loved that considering I have a little history with strings myself.
Also, I want to mention that I absolutely, positively love the cover of this book. Can somebody please stand up and clap for C.J. Omololu and her creative team for putting a non-white person not only in a leading role in her story but front and center on a quite attractive cover?! The cover looks great anyway, but I'm super happy that these cover models actually represent the story the way it is told. Very, very nice job.


Transcendence is a fun, quick paranormal/urban fantasy story that seems to be a little romance-y at first but becomes more mysterious and thrilling as the end comes near. By the time I got to the end, I was pretty invested and will for sure read the next book when it becomes available.


Transcendence will appeal to fans of:


YA Paranormal/Urban Fantasy
Reincarnation Stories
Romance: seems instant, no triangle
Books Containing Music: Cello

Transcendence by C.J. Omololu
is available for purchase on June 5, 2012.


**
I received a review copy from the publisher in exchange for an honest opinion and review. I received no compensation for my thoughts. Thank you Bloomsbury USA & NetGalley!
*****************************************


Do you get excited when
you find music or the arts in a book?


Which artsy book is your favorite?


I was so happy and shocked
to see so much of the cello in this one!