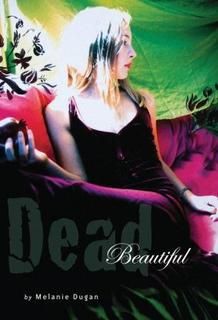 Dead Beautiful by Melanie Dugan
Published by Upstart Press
Publish Date: May 12, 2012
165 Pages
Source: Melanie Dugan/TLCBookTours

Dead Beautiful is a contemporary retelling of the classic Greek myth of Persephone. This was the myth the Greeks used to explain how we came to have the change of seasons. In the traditional version of the myth, Persephone – the daughter of Demeter, Goddess of agriculture and fertility, and Zeus, the top god on Olympus – is abducted one day by Hades, God of the Underworld (which is also called Hades).

Demeter refuses to do her job until her daughter is returned to her, and the earth is plunged into the first winter: no crops grow, cold settles on the earth. It turns out that while in Hades, Persephone has eaten six pomegranate seeds. As a result, for six months of the year, she must live with Hades; this is when it is fall and winter on earth. For six months she lives with her mother – then we have spring and summer.

Dead Beautiful asks, what if Persephone, like many adolescent girls, didn't tell her mother the whole truth? What if Hades didn't abduct her? What if she made the decision to go with him? (She is, after all, 18 millennia old.) –(summary excerpt from Goodreads)

Dead Beautiful by Melanie Dugan
My Thoughts: I love everything about classic Greek Mythology and I always have. The story of Persephone and Hades is one of my favorites and I loved this new spin on the classic myth. (Read the Goodreads summary above for a quick reminder of the classic myth.)

Melanie Dugan used alternating points-of-view to offer us a different perspective of the story in Dead Beautiful – Persephone is written as a regular girl with a regular crush that turns into full-blown love. It isn't her fault that this love would be frowned upon if anyone knew about it – Hades has such a bad reputation and he doesn't deserve it! He's handsome – so handsome – and very kind. Plus, she loves him. Persephone simply does what any love-sick girl would do: she tries to get the attention of the guy she loves.

And it works. I love the way Hades was written in this story. Love him.

Hades notices her efforts. He notices all the little gifts she leaves for him in places where only he would find them. And he begins to do the same for her, leaving her small tokens of his affection here and there. Their secret courtship goes on like this for a time until it becomes clear that one of them needs to make a move because they just can't live without one another. And so it happens: Persephone makes her choice. She leaves, willingly, with Hades to go live in the Underworld – which completely throws the rest of the world out of whack and rhythm. See, when Demeter gets angry or upset, the grass doesn't grow. There is no harvest. The ground becomes dry. And it becomes cold outside. It isn't warm and beautiful and green outside anymore. This, friends, is the story of when the seasons began to change.

Demeter is written as a way-overprotective mother that is sick with worry after Persephone disappears with Hades. She has no idea where her daughter has gone, so she simply ceases to do the things she needs to do – she's basically grieving. And grieving for Demeter means that farmers have no harvest and the world's food supply runs low. Naturally, Zeus takes notice and decides that things can't go on like this. He decides to help her find Persephone and everyone – everyone – is shocked to learn that Persephone left of her own free will. After all, that Hades is such a shady character, right?

You guys, this story was so much fun for me! I was already very familiar with this myth, so when I started the book I could let myself really enjoy it. Honestly, though, even if you're not too familiar with this myth, there is sufficient information provided in the summary to give you enough background so that it makes sense. Dead Beautiful is told in alternating POV's from the key players in the classic myth, and well-placed alternating perspectives are something I always enjoy – each POV is another vantage-point into the chaos that was happening while Persephone and Hades were oblivious and having their good ole' time in the Underworld.

Dead Beautiful is short and fun. It would be a blast for others out there like me that love mythology. Also, I'm pretty sure there is a Mythology Challenge floating around out there, so if you are participating, perhaps you should consider Dead Beautiful as an option for one of the books you read. It is more than just a re-telling; it is an entirely different version or perspective on this fun and popular story.

Dead Beautiful will appeal to fans of:


Mythology/Mythology Re-Tellings
Alternating Points-of-View

Dead Beautiful by Melanie Dugan
is currently available for purchase.


**
I received a review copy from the author in exchange for an honest opinion and review. I received no compensation for my thoughts. Thank you Melanie and TLC Book Tours!
**************************************************

Thanks to the generosity of Melanie Dugan,
I am able to offer a copy of DEAD BEAUTIFUL
to ONE LUCKY WINNER!
(International!)
a Rafflecopter giveaway
Be sure to check out the rest of the tour stops
by clicking HERE.
(There may be giveaways at other stops!)
Good Luck!