In My Mailbox is a weekly event hosted by Kristi over at
The Story Siren
. She uses this time to tell about the books she receives each week either to review, from the library, or from a purchase. Kristi is kind enough to let us all in on her fun and here is my little piece of that!
**********************************************
Review:
**********************************************
Borrowed:
So it is no secret how much I
*struggle with loving* contemporary books,
and I'm sure everyone is tired of hearing about how I'm trying to
READ MORE CONTEMPORARY YA IN 2012! *yay*
Fellow blogger and awesome person
TARA
sent me a huge box
of YA CONTEMPS simply because she loves them so much and
she wants me to love them too. NOT ONLY THAT but she
wrote me a list of more recommendations.
Y'all, handwritten mail is
one of the most incredible things EVER.
Tara is pretty much a rock star.
(Tara blogs at Hobbitsies, a book blog. Check it!)
And as if the box of books wasn't awesome enough,
Tara threw in some swag!
Thank you so much Tara! You are SO AWESOME.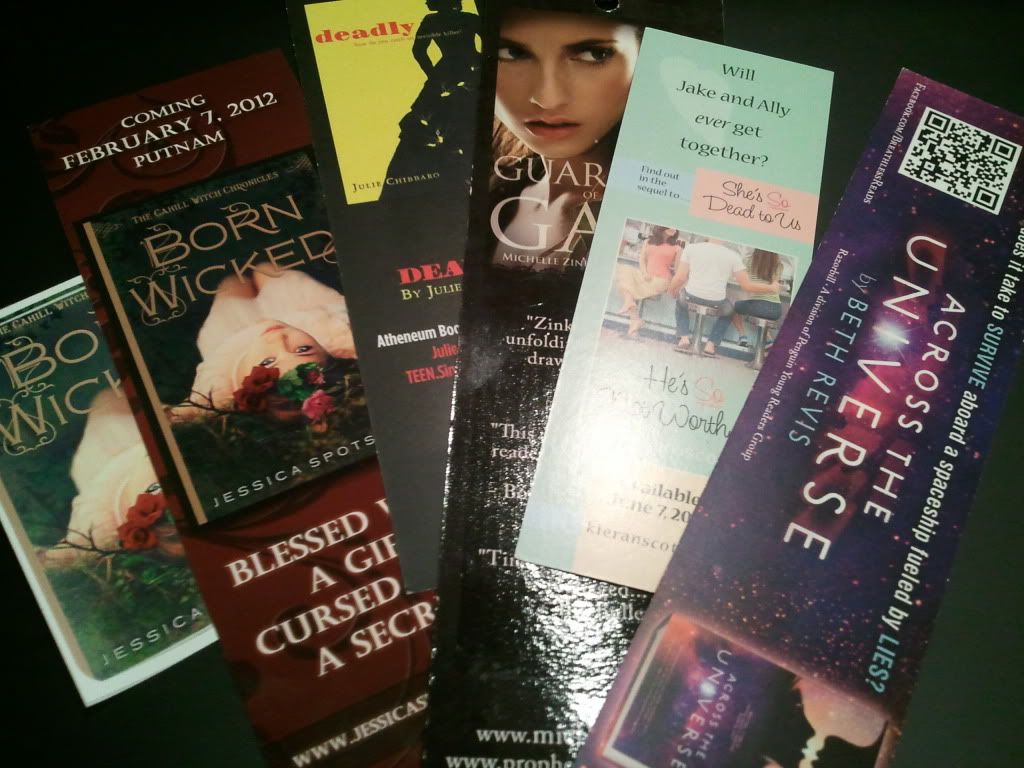 LOVE LOVE LOVE these, Tara! Thank you so much!
You seriously have no idea how much fun these are for me.
I love them as much as I love you sharing the books...
Have any of you read any of these books?
Leave me a comment and tell me all about it!
Also, do you have any
contemporary YA recommendations
for me? Tara wrote out 36 titles on her note,
plus the ones she let me borrow.
What are YOUR favorites so I can add them
to my recommendations list??
Weekly Recap: