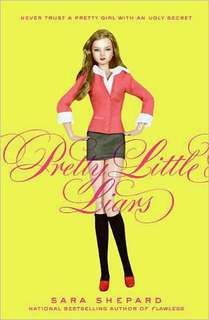 Three years ago, Alison disappeared after a slumber party, not to be seen since. Her friends at the elite Pennsylvania school mourned her, but they also breathed secret sighs of relief. Each of them guarded a secret that only Alison had known. Now they have other dirty little secrets, secrets that could sink them in their gossip-hungry world. When each of them begins receiving anonymous emails and text messages, panic sets in. Are they being betrayed by some one in their circle? Worse yet: Is Alison back? A strong launch for a suspenseful series. -(summary from Goodreads.com)
Spencer stole her sister's boyfriend. Aria is brokenhearted over her English teacher. Emily likes her new friend Maya . . . as much more than a friend. Hanna's obsession with looking flawless is making her sick. And their most horrible secret yet is so scandalous that the truth would ruin them forever.
And why shouldn't I tell? They deserve to lose it all. With every crumpled note, wicked IM, and vindictive text message I send, I'll be taking these pretty little liars down. Trust me, I've got enough dirt to bury them alive. -(summary from Goodreads.com)
My Thoughts: Goodness. Gracious. Y'all. I have never read such as this!

First of all, let me say that I have never seen the television show that goes along with these books. But now I want to! I've had several friends telling me for some time now that I should read this series. (They're sooo good...You'll loooove 'em if you just give 'em a chance....) Well, my pal Sara recommended them to me and I decided to finally give them a try. Thank you, thank you, thank you to all who recommended these to me. I am officially and unequivocally hooked!

I realize that I am not in high school anymore. I don't really care. I am so caught up in what's going on with Emily, Aria, Hanna, and Spencer and I don't care who knows it. When I finished Pretty Little Liars, I immediately devoured Flawless. I rarely read books in a series back-to-back, but I couldn't help it!

I'm not even going to try and give a summary or synopsis or anything. Just read them if you haven't. I recommend them to everyone. Every. Body. Right now.