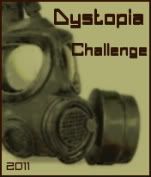 I am officially joining in on the fun that is the 2011 Dystopia Challenge. This challenge is hosted by Bonnie at
Bookish Ardour
and seems like a great fit for me since I read so much dystopian literature anyway. This post is my official entry. The challenge started on January 1, 2011 so I am late into the game. For this reason, I will aim low.
For those of you who are not quite sure what I mean by the term
dystopian
, I'll let Bonnie explain it. This was taken from her blog:
This might help though. What is Dystopia: 'An imaginary place where the conditions and quality of life are unpleasant. The opposite of Utopia.' -from Bookish Ardour
Chances are that some of you have already read some of these types of literature. For example, if you have read The Hunger Games trilogy, you've read dystopian novels. You just may not have realized it!
Challenge Levels
Asocial– Choose 5 books to read
Contagion – Choose 15 books to read
Soldier – Choose 30 books to read
Drone – Choose 50 books to read
Conditioned – Choose 75 books to read
I am choosing to enter at the Asocial level because nearly half of the year has gone by already. If I read more than the required five books, then that is awesome. But I will aim low this year and make sure to start at the beginning of next year. There are plenty of dystopian novels out there to keep me busy for the next few years.
This challenge runs from January 1, 2011 until December 31, 2011.